Merseyside PTA expects £1.5m surplus
10th December 1971
Page 26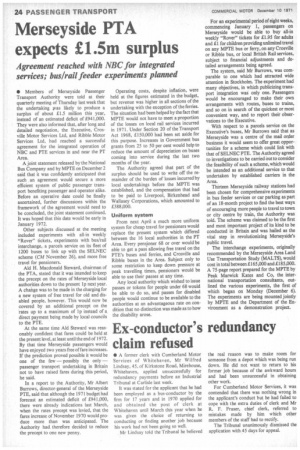 Page 26, 10th December 1971 —
Merseyside PTA expects £1.5m surplus
Close
Keywords :
Transport In The United Kingdom
,
United Kingdom
,
Counties Of England
,
Transport In Liverpool
,
Passenger Transport Executive
,
Merseyside Passenger Transport Executive
,
Ribble Motor Services
,
Merseyside
,
National Bus Company
,
Transport Act
,
Bus
,
North Western Road Car Company
Agreement reached with NBC for integrated services; bus/rail feeder experiments planned
• Members of Merseyside Passenger Transport Authority were told at their quarterly meeting of Thursday last week that the undertaking was likely to produce a surplus of about £1.5 million this year, instead of an estimated deficit of L941,000. They were also informed that, after long and detailed negotiation, the Executive, Crosvine Motor Services Ltd. and Ribble Motor Services Ltd, had reached a successful agreement for the integrated operation of NBC and PTE services in and near the PT Area.
A joint statement released by the National Bus Company and by MPTE on December 2 said that it was confidently anticipated that such an agreement would secure a more efficient system of public passenger transport benefiting passenger and operator alike. Before an operative date could be finally ascertained, further discussions within the framework of the agreement would need to be concluded, the joint statement continued. It was hoped that this date would be early in January 1972.
Other subjects discussed at the meeting included experiments with all-in weekly "Rover" tickets, experiments with bus/rail interchange,, a parcels service on its fleet of 1200 buses to link up with the SELNEC scheme (CM November 26), and more free travel for pensioners.
Aid H. Macdonald Steward, chairman of the PTA, stated that it was intended to keep the precept on the rates of Merseyside local authorities down to the present lp next year. A change was to be made in the charging for a new system of free travel for old and disabled people. however. This would now be covered by an additional precept on the rates up to a maximum of 1 p instead of a direct payment being made by local councils to the PTE.
At the same time Aid Steward was reasonably confident that fares could be held at the present level, at least until the end of 1972. By that time Merseyside passengers would have enjoyed two years free of fare increases. If the prediction proved possible it would be one of the few — possibly the only — passenger transport undertaking in Britain not to have raised fares during this period, he said.
In a report to the Authority, Mr Albert Burrows, director-general of the Merseyside PTE. said that although the 1971 budget had forecast an estimated deficit of £941,000, there were already indications last March, when the rates precept was levied, that the fares increase of November 1970 would produce more than was anticipated. The Authority had therefore decided to reduce the precept to one new penny. Operating costs, despite inflation, were held at the figures estimated in the budget, but revenue was higher in all sections of the undertaking with the exception of the ferries. The situation had been helped by the fact that MPTE would not have to meet a proportion of the losses on local rail services incurred in 1971. Under Section 20 of the Transport Act 1968, £150,000 had been set aside for this purpose. Increases in Government bus grants from 25 to 50 per cent would help to reduce the amount of depreciation on buses coming into service during the last two months of the year.
The Authority agreed that part of the surplus should be used to write off the remainder of the burden of losses incurred by local undertakings before the MPTE was established, and the compensation that had to be paid to Liverpool, Birkenhead and Wallasey Corporations, which amounted to £388,000.
Uniform system From next April a much more uniform system for cheap travel for pensioners would replace the present system which differed between the 16 local authorities in the PT Area. Every pensioner 68 or over would be able to get a pass allowing free travel on the PTE's buses and ferries, and Crosville and Ribble buses in the Area. Subject only to some restriction to keep down pressure at peak travelling times, pensioners would be able to use their passes at any time.
Any local authority which wished to issue passes or tokens for people under 68 would be able to do so, and passes for disabled people would continue to be available to the authorities at an advantageous rate on condition that no distinction was made as to how the disability arose. For an experimental period of eight weeks, commencing January 1, passengers on Merseyside would be able to buy all-in weekly "Rover" tickets for £.1.95 for adults and for children providing unlimited travel on any MPTE bus or ferry, on any Crosville or Ribble bus, or local British Rail services, subject to financial adjustments and detailed arrangements being agreed.
The system, said Mr Burrows, was comparable to one which had attracted wide attention in Stockholm. The experiment had many objectives, in which publicizing transport integration was only one. Passengers would be encouraged to make their own arrangements with routes, buses to trains, and so on in search of the quickest or most convenient way, and to report their observations to the Executive.
With respect to a parcels service on the Executive's buses, Mr Burrows said that as Merseyside was a centre of the mail order business it would seem to offer great opportunities for a scheme which could link with that of SELNEC PTE. The Authority agreed to investigations to be carried out to consider the feasibility of such a scheme, which would be intended as an additional service to that undertaken by established carriers in the Area.
Thirteen Merseyside railway stations had been chosen for comprehensive experiments in bus feeder services or car parking as part of an 18-month project to find the best ways of encouraging more people to travel to town or city centre by train, the Authority was told. The scheme was claimed to be the first and most important project of its kind to be conducted in Britain and was hailed as the vital step in revolutionizing Merseyside's public travel.
The interchange experiments, originally recommended by the Merseyside Area Land Use Transportation Study (MALTS), would cost in total between £165,000 and £185,000. A 75-page report prepared for the MPTE by Peak Marwick Kates and Co, the international transportation consultants, outlined the various experiments, the first of which began on Monday (December 6). The experiments are being mounted jointly by MPTE and the Department of the Environment as a demonstration project.