Ex-conductor's redundancy claim refused
10th December 1971
Page 26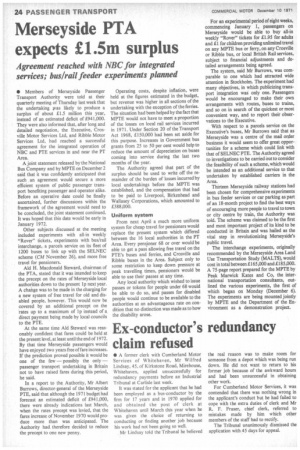 Page 26, 10th December 1971 —
Ex-conductor's redundancy claim refused
Close
• A former clerk with Cumberland Motor Services of Whitehaven, Mr Wilfred Lindsay, 45, of Kirkstone Road, Mirehouse, Whitehaven, applied unsuccessfully for redundancy payments before an Industrial Tribunal at Carlisle last week.
It was stated for the applicant that he had been employed as a bus-conductor by the firm for 17 years and in 1970 applied for and obtained the post of clerk at Whitehaven until March this year when he was given the choice of returning to conducting or finding another job because his work had not been going so well.
Mr Lindsay told the Tribunal he believed the real reason was to make room for someone from a depot which was being run down. He did not want to return to his former job because of the awkward hours and had been unsuccessful in obtaining other work.
For Cumberland Motor Services, it was contended that there was nothing wrong in the applicant's conduct but he had failed to cope with the extra duties of clerk and Mr R. F. Fraser, chief clerk, referred to mistakes made by him which other members of the staff had to rectify.
The Tribunal unanimously dismissed the application with 45 days for appeal.