Round the clock cold store at new dock
10th December 1971
Page 25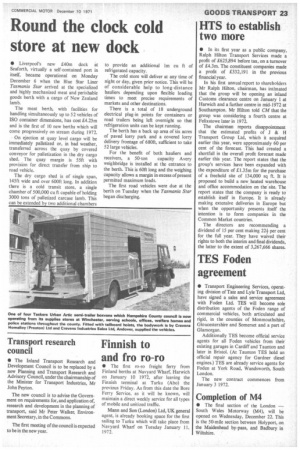 Page 25, 10th December 1971 —
Round the clock cold store at new dock
Close
• Liverpool's new £40m dock at Seaforth, virtually a self-contained port in itself, became operational on Monday December 6 when the Blue Star Liner Tasmania Star arrived at the specialized and highly mechanized meat and perishable goods berth with a cargo of New Zealand lamb.
The meat berth, with facilities for handling simultaneously up to 52 vehicles of ISO container dimensions, has cost £4.25m and is the first of 10 new berths which will come progressively on stream during 1972.
On ejection at quay level cargo will be immediately palletized or, in bad weather, transferred across the quay by covered conveyor for palletization in the dry cargo shed. The quay margin is 55ft with provision for direct transfer from ship to road vehicle.
The dry cargo shed is of single span, 145ft wide and over 600ft long. In addition there is a cold transit store, a single chamber of 500,000 cu ft capable of holding 3000 tons of palletized carcase lamb. This can be extended by two additional chambers to provide an additional lm cu ft of refrigerated capacity.
The cold store will deliver at any time of night or day, given prior notice. This will be of considerable help to long-distance hauliers depending upon flexible loading times to meet precise requirements of markets and other destinations.
There is a total of 18 underground electrical plug-in points for containers or road trailers being left overnight so that refrigeration units can be kept running.
The berth has a back up area of 'six acres of paved lorry park and a covered lorry delivery frontage of 680ft, sufficient to take 52 large vehicles.
For the benefit of both hauliers and receivers, a 50-ton capacity Avery weighbridge is installed at the entrance to the berth. This is 60ft long and the weighing capacity allows a margin in excess of present permitted maximum loads.
The first road vehicles were due at the berth on Tuesday when the Tasmania Star began discharging.