HTS to establish two more
10th December 1971
Page 25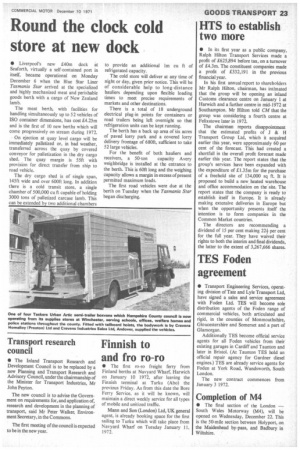 Page 25, 10th December 1971 —
HTS to establish two more
Close
• In its first year as a public company, Ralph Hilton Transport Services made a profit of £625,894 before tax, on a turnover of £4.3m. The constituent companies made a profit of £332,191 in the previous financial year.
In his first annual report to shareholders Mr Ralph Hilton, chairman, has intimated that the group will be opening an inland Customs clearance centre on January 1 at Harwich and a further centre in mid-1972 at Southampton. Mr Hilton told CM that the group was considering a fourth centre at Felixstowe later in 1972.
The chairman reports disappointment that the estimated profits of J & H Transport Group Ltd, which it acquired earlier this year, were approximately 60 per cent of the forecast. This had created a shortfall in the overall profit forecast made earlier this year. The report states that the group's services have been expanded with the expenditure of £1.35m for the purchase of a freehold site of 134,000 sq ft. It is proposed to build a new heated warehouse and office accommodation on the site. The report states that the company is ready to establish itself in Europe. It is already making extensive deliveries in Europe but when the opportunity presents itself the intention is to form companies in the Common Market countries.
The directors are recommending a dividend of 15 per cent making 224per cent for the full year. They have waived their rights to both the interim and final dividends, the latter to the extent of 3,267,666 shares.