Block permits system next year: more for France
10th December 1971
Page 22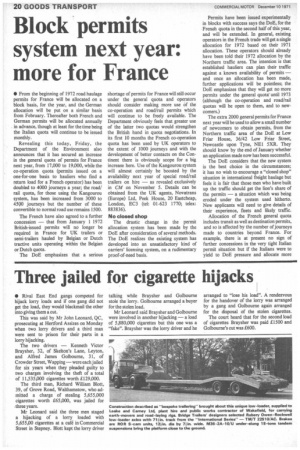 Page 23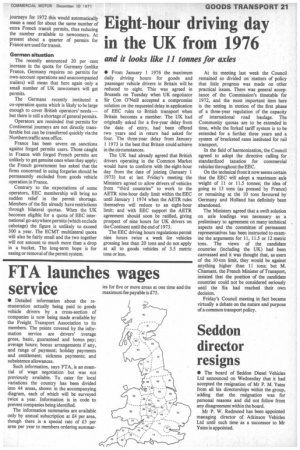 Page 22, 10th December 1971 —
Block permits system next year: more for France
Close
• From the beginning of 1972 road haulage permits for France will be allocated on a block basis, for the year, and the German allocation will be put on a similar basis from February. Thereafter both French and German permits will be allocated annually in advance, though at least for the time being the Italian quota will continue to be issued monthly.
Revealing this today, Friday, the Department of the Environment also announces that it has secured an increase in the general quota of permits for France next year, from 17,000 to 19,000, while the co-operation quota (permits issued on a one-for-one basis to hauliers who find a return load for a French operator) has been doubled to 4000 journeys a year; the road/ rail quota, for those using the Kangourou system, has been increased from 3000 to 4500 journeys but the number of these convertible to normal road use remains 1500.
The French have also agreed to a further concession — that from January 1 1972 British-issued permits will no longer be required in France for UK trailers or semi-trailers hauled by Belgian or Dutch tractive units operating within the Belgian or Dutch quota.
The DoE emphasizes that a serious shortage of permits For France will still occur under the general quota and operators should consider making more use of the co-operation and road/rail permits which will continue to be freely available. The Department obviously feels that greater use of the latter two quotas would strengthen the British hand in quota negotiations. In its first 10 months the French co-operation quota has been used by UK operators to the extent of 1000 journeys and with the development of better contacts on the Continent there is obviously scope for a big increase here. Use of the Kangourou system will almost certainly be boosted by the availability next year of special road/rail trailers on hire — as revealed exclusively in CM on November 5. Details can be obtained from the UK agents, Novatrans (Europe) Ltd, Peek House, 20 Eastcheap, London, EC3 (tel: 01-623 1770; telex: 883836).
No closed shop The drastic change in the permit allocation system has been made by the DoE after consideration of several methods. The DoE realizes the existing system has developed into an unsatisfactory kind of carriers' licensing system, on a rudimentary proof-of-need basis. Permits have been issued experimentally in blocks with success says the DoE, for the French quota in the second half of this year, and will be extended. In general, existing operators in the French trade will get a single allocation for 1972 based on their 1971 allocation. These operators should already have been told their 1972 allocation by the Northern traffic area. The intention is that established hauliers can plan their traffic against a known availability of permits — and once an allocation has been made, further applications will be pointless; the DoE emphasizes that they will get no more permits under the general quota' until 1973 (although the co-operation and road/rail quotas will be open to them, and to newcomers.) The extra 2000 general permits for France next year will be used to allow a small number of newcomers to obtain permits, from the Northern traffic area of the DoE at Low Friar House, 36/42 Low Friar Street, Newcastle upon Tyne, NE1 5XR. They should know by the end of January whether an application made now has been successful.
The DoE considers that the new system is the best choice in the circumstances; it has no wish to encourage a "closed shop" situation in international freight haulage but feels it is fair that those men who have built up the traffic should get the lion's share of the permits — a situation which was being eroded under the system used hitherto. New applicants will need to give details of their experience, fleets and likely traffic.
Allocation of the French general quota includes transit as well as destination permits, and so is affected by the number of journeys made to countries beyond France. For example, there is at present no sign of further concessions in the very tight Italian permit situation but if the Italians were to yield to DoE pressure and allocate more journeys for 1972 this would automatically mean a need for about the same number of extra French transit permits, thus reducing the number available to newcomers. At present about a quarter of permits for France are used for transit.
German situation The recently announced 20 per cent increase in the quota for Germany (unlike France, Germany requires no permits for own-account operations and unaccompanied trailers) will mean that here again only a small number of UK newcomers will get permits.
The Germans recently instituted a co-operation quota which is likely to be large enough to cover British operators' needs — but there is still a shortage of general pennits.
Operators are reminded that permits for Continental journeys are not directly transferable but can be transferred quickly via the Northern traffic area office.
France has been severe on sanctions against forged permits users. Those caught in France with forged French permits are unlikely to get genuine ones when they apply; the French government has asked that the firms concerned in using forgeries should be permanently excluded from goods vehicle operation in France.
Contrary to the expectations of some operators, EEC membership will bring no sudden relief in the permit shortage. Members of the Six already have restrictions through bilateral quotas. When the UK becomes eligible for a quota of EEC international go-anywhere permits (which exclude cabotage) the figure is unlikely to exceed 300 a year. The ECMT multilateral quota will also be fairly small and the two together will not amount to much more than a drop in a bucket. The long-term hope is for easing or removal of the permit system.