Will Brum drivers' pay rates spread to Wales?
10th December 1971
Page 20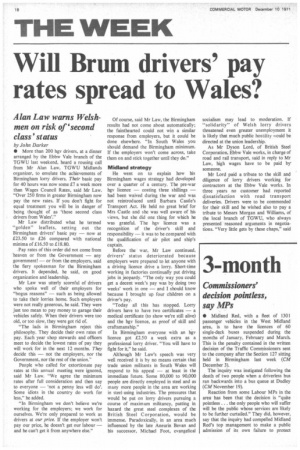 Page 21
Page 20, 10th December 1971 —
Will Brum drivers' pay rates spread to Wales?
Close
Alan Law warns Welshmen on risk of 'second class' status
by John Darker • More than 200 hgv drivers, at a dinner arranged by the Ebbw Vale branch of the TGWU last weekend, heard a rousing call from Mr Alan Law, TGWU Midlands organizer, to emulate the achievements of Birmingham lorry drivers. Their basic pay for 40 hours was now some £7 a week more than Wages Council Rates, said Mr Law. "Over 250 firms in greater Birmingham now pay the new rates, If you don't fight for equal treatment you will be in danger of being thought of as 'those second class drivers from Wales'."
Mr Law distributed what he termed "golden" leaflets, setting out the Birmingham drivers' basic pay — now at £23.50 to £26 compared with national minima of £16.50 to £18.80,
Pay rates of this order did not come from heaven or from the Government — any government! — or from the employers, said the fiery spokesman for the Birmingham drivers. It depended, he said, on good organization and leadership.
Mr Law was utterly scornful of drivers who spoke well of their employers for "bogus reasons" — such as being allowed to take their lorries home. Such employers were not really generous, he said. They were just too mean to pay money to garage their vehicles safely. When their drivers were too old, or too slow, they were got rid of.
"The lads in Birmingham reject this philosophy. They decide their own rates of pay. Each year shop stewards and officers meet to decide the lowest rates of pay they will work for in the next 12 months. They decide this — not the employers, nor the Government, nor the rest of the union."
People who called for extortionate pay rates at this annual meeting were ignored, said Mr Law. "We agree the minimum rates after full consideration and then say to everyone — 'not a penny less will do'. Some idiots in the country do work for less," he added.
"In Birmingham we don't believe we're working for the employers; we work for ourselves. We're only prepared to work as drivers at our price If the employer won't pay our price, he doesn't get our labour — and he can't get it from anywhere else."
Of course, said Mr Law, the Birmingham results had not come about automatically; the fainthearted could not win a similar response from employers, but it could be done elsewhere. "In South Wales you should demand the Birmingham minimum. If the employers won't come across, take them on and stick together until they do."
Midland strategy He went on to explain how his Birmingham wages strategy had developed over a quarter of a century. The pre-war hgv licence — costing three shillings — had been waived during the war and was not reintroduced until Barbara Castle's Transport Act. He held no great brief for Mrs Castle and she was well aware of his views, but she did one thing for which he was grateful. The hgv licence was a recognition of the driver's skill and responsibility — it was to be compared with the qualification of air pilot and ship's captain.
Before the war, Mr Law continued, drivers' status deteriorated because employers were prepared to let anyone with a driving licence drive a lorry. Short-time working in factories continually put driving jobs in jeopardy. "The only way you could get a decent week's pay was by doing two weeks' work in one — and I should know because I brought up four children on a driver's pay.
"Today all this has stopped. Lorry drivers have to have two certificates — a medical certificate (to show we're still alive) and the hgv licence, as proof of skill and craftsmanship."
In Birmingham everyone with an hgv licence got £2.50 a week extra as a professional lorry driver. "You will have to fight for it," he said, Although Mr Law's speech was very well received it is by no means certain that trade union militants in South Wales will respond to his appeal — at least in the immediate future. Some 80,000 to 90,000 people are directly employed in steel and as many more people in the area are working in steel-using industries. The pressures that would be put on lorry drivers pursuing a course of maximum militancy, putting in hazard the great steel complexes of the British Steel Corporation, would be immense. Paradoxically, in an area much influenced by the late Aneurin Bevan and his successor, Michael Foot, evangelical socialism may lead to moderation. If "solidarity" of Welsh lorry drivers threatened even greater unemployment it is likely that much public hostility would be directed at the union leadership.
As Mr Dyson Lord, of British Steel Corporation, Ebbw Vale works, in charge of road and rail transport, said in reply to Mr Law, high wages have to be paid by someone.
Mr Lord paid a tribute to the skill and diligence of lorry drivers working for contractors at the Ebbw Vale works. In three years no customer had reported dissatisfaction with road transport deliveries. Drivers were to be commended for their skill and he wished also to pay a tribute to Messrs Morgan and Williams, of the local branch of TGWU, who always presented reasoned arguments in negotiations. "Very little gets by these chaps," said Mr Lord. "Your interests are in good hands."
There was a serious strike involving some 400 drivers in South Wales in March 1970 and the Ebbw Vale steel works was threatened by it. I was told by some of the TGWU drivers involved in the stoppage that an appeal by the then future head of the works, Mr David Jones, led to its being called off. The present situation in nationalized steel will undoubtedly be a moderating factor with most of the present leadership of the TGWU in South Wales.
What was distressing was to learn of the substantial number of vehicles laid up for lack of work and to hear of rampant rate-cutting by certain contractors. I was also given categorical details of grossly excessive speeds and working hours allegedly undertaken by a proportion of drivers, with the full encouragement of their firms. Amazement was expressed that the DoE local examiners took no action. Branch officials of the TGWU at Newport and Swansea reeled off too many accounts of abuses for me to doubt that there was much truth in the allegations. For example, one driver was said to have done two return trips to Scotland and a return trip to Southampton in one week.
There was much concern — following recent motorway accidents — at the prevalence of motorway speeds of 70-plus in heavy lorries. Men with a lifetime of driving were not happy with the situation and it seemed clear that employers in the area, with or without encouragement from the DoE, should examine the present position without delay.