Framework for the future
10th December 1971
Page 19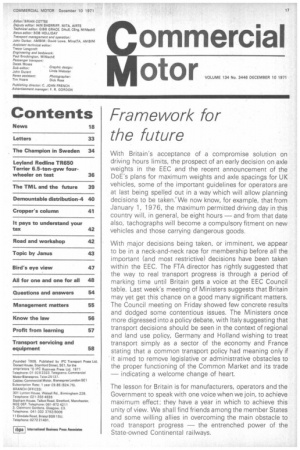 Page 19, 10th December 1971 —
Framework for the future
Close
With Britain's acceptance of a compromise solution on driving hours limits, the prospect of an early decision on axle weights in the EEC and the recent announcement of the DoE's plans for maximum weights and axle spacings for UK vehicles, some of the important guidelines for operators are at last being spelled out in a way which will allow planning decisions to be taken.' We now know, for example, that from January 1, 1976, the maximum permitted driving day in this country will, in general, be eight hours — and from that date also, tachographs will become a compulsory fitment on new vehicles and those carrying dangerous goods.
With major decisions being taken, or imminent, we appear to be in a neck-and-neck race for membership before all the important (and most restrictive) decisions have been taken within the EEC. The FTA director has rightly suggested that the way to real transport progress is through a period of marking time until Britain gets a voice at the EEC Council table. Last week's meeting of Ministers suggests that Britain may yet get this chance on a good many significant matters. The Council meeting on Friday showed few concrete results and dodged some contentious issues. The Ministers once more digressed into a policy debate, with Italy suggesting that transport decisions should be seen in the context of regional and and use policy, Germany and Holland wishing to treat transport simply as a sector of the economy and France stating that a common transport policy had meaning only if " it aimed to remove legislative or administrative obstacles to the proper functioning of the Common Market and its trade — indicating a welcome change of heart.
The lesson for Britain is for manufacturers, operators and the Government to speak with one voice when we join, to achieve maximum effect; they have a year in which to achieve this unity of view. We shall find friends among the member States and some willing allies in overcoming the main obstacle to road transport progress — the entrenched power of the State-owned Continental railways.