Buses Must Give "Private-car" Ride
10th December 1954
Page 67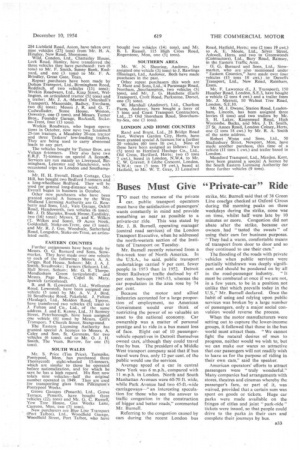 Page 67, 10th December 1954 —
Buses Must Give "Private-car" Ride
Close
TO meet the menace of the private car, public transport operators must have the satisfaction of passengers' wants constantly in mind and provide something as near as possible to a private-car ride. This was stated by Mr, J. B. Burnell, operating manager (central road services) of the London Transport Executive, when he addressed the north-western section of the Institute of Transport on Tuesday.
Mr, Burnell recently returned from a
five-week tour of North America. In the U.S.A., he said, public transport undertakings carried 9 per cent, fewer people in 1953 than in 1952. Detroit Street Railways' traffic declined by 47 per cent. between 1945-53, whereas the car population in the area rose by '74 ,per cent.
Because the motor and allied industries accounted for a large proportion of employment, no American Government would ever think of " restricting the power of so valuable an asset to the national economy. Car ownership was a matter of personal prestige and to ride in a bus meant loss of face. 'Eight out of 10 passengervehicle operatives in Detroit themselves owned cars, although they could travel free by bus. The president of a Middle West transport company said that if bus travel were free, only 12 per cent. of the public would use the services.
Average speed of a car in central New York was 6 m.p.h.. compared with 11 m.p.h. in London. North and South Manhattan Avenues were 60170 ft. wide, while Park Avenue had two 45-11.-wide carriageways—" an interesting speculation for those who see the answer to traffic congestion inthe construction of bigger and better roads," commented Mr. Burnell.
Referring to the congestion caused by cars during the recent London bus
strike, Mr. Burnell said that of 38 Green Line coaclies checked at Oxford Circus during the morning peaks on three weekdays during the strike, none war on time, whilst half were late by 10 minutes or more. Congestion did not abate after the strike, because car owners had "tasted the sweets" of using their ears for business purposes, "They had •a warm, comfortable means of transport from door to door and so they continued to use their cars."
The flooding of the roads with private vehicles when public services were partially withdrawn was deeply significant and should be pondered on by all in the road-passenger industry. "It must be combated at once if we are not, in a few years, to be in a position not unlike that which prevails today in the U.S.," Mr. Burnell declared. Once the habit of using and relying upon public services was broken 'by a large number of passengers, only a major social convulsion would reverse the process.
When the motor manufacturers were setting out to capture the lower-income groups, it followed that those in the bus world must attract them. "We cannot fight the natural desires of men to progress, neither would we wish to, but we can make our wares so attractive that our passengers will not readily wish to leave us for the purpose of riding in their own cars," said the speaker.
American operators' efforts to attract passengers were "truly wonderful." Many companies had arrangements with stores, theatres and cinemas whereby the passenger's fare, or part of it, was waived, provided that a certain sum was spent on goods or tickets. Huge car parks were made available on the fringes of cities and joint " park-ride " tickets were issued, so that people could drive to the parks in their cars and complete their journeys by bus,