For and• Against London Transport
10th December 1954
Page 63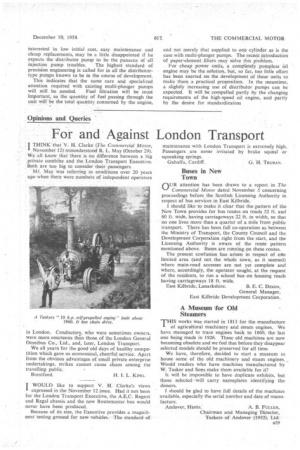 Page 63, 10th December 1954 —
For and• Against London Transport
Close
THINK that V. H. Clarke (The Commercial Motor, I November 12) misunderstood R.L. May (October 29). We all know that there is no difference between a big .private combitie and the London Transport Executive.
• .Both are too big to consider their passengers. .Mr. May was referring to conditions over 20 years ago when there were numbers of independent operators
in London. Conductors, who were sometimes owners, were more courteous than those of the London General Omnibus Co., Ltd., and, later, London Transport.
We all yearn for the good old days of healthy competition which gave us economical, cheerful service. Apart from the obvious advantages of small private enterprise undertakings, strikes cannot cause chaos among the travelling public.
Brentford. H. I. L. KING.
I WOULD like to support V. H. Clarke's views I expressed in the November 12 issue. Had it not been for the London Transport Executive, the A.E.C. Regent and Regal chassis and the new Routemaster bus would never have been produced.
Because of its size, the Executive provides a magnificent testing ground for newvehicles. The standard of maintenance with London Transport is extremely high. Passengers are never irritated by brake squeal or squeaking springs.
.
Gabalfa, Cardiff. G. H. TRURAN.
Buses in New Town
OUR attention has been drawn to a report in The Commercial Motor dated November 5 concerning proceedings before the Scottish Licensing Authority in respect of bus services in East Kilbride.
I should like to make it clear that the pattern of the New Town provides for bus routes on roads 52 ft. and 60 ft. wide, having carriageways 22 ft. in width, so that no one lives more than a quarter of a mile from public transport. There has been full co-operation as between the Ministry of Transport, the County Council and the Development Corporation right from the start, and the Licensing Authority is aware of the route pattern mentioned above. Buses are running on these routes.
The present confusion has arisen in respect of one limited area (and not the whole town, as it seemed) where main-road accesses are not yet complete and where, accordingly, the operator sought, at the request of the residents, to run a school bus on housing roads having carriageways 18 ft. wide.
East Kilbride, Lanarkshire. B. E. C. DIXON, General Manager, East Kilbride Development Corporation.
A Museum for Old Steamers
erms works was started in 1813 for the manufacture I of agricultural machinery and steam engines. We have managed to trace engines back to 1860, the last one being made in 1926. These old machines are now becoming obsolete and we feel that before they disappear selected models should be preserved for all time.
We have, therefore, decided to start a museum to house some of the old machinery and steam engines. Would readers who have machines manufactured by W. Tasker and Sons make them available for it?
It will be impossible to have duplicate exhibits, but those selected -will carry nameplates identifying the donors.
I should be glad to have full details of the machines available, especially the serial number and date of manufacture.
Andover, Hants. A. B. FULLER,
• Chairman and Managing Director,