Lighting Concessions of Little Help
10th December 1954
Page 56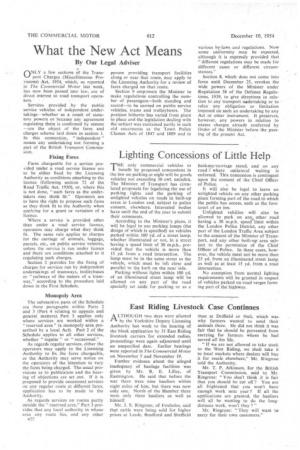 Page 56, 10th December 1954 —
Lighting Concessions of Little Help
Close
THE only commercial vehicles to benefit by proposed concessions in the law on parking at night will be goods vehicles not exceeding 30 cwt. unladen. The Minister of Transport has circulated proposals for legalizing the use of parking lights and the parking of unlighted vehicles on roads in built-up areas in London and, subject to police consent, elsewhere. Interested bodies have until the end of the year to submit their comments.
According to the Minister's plans, it will be legal to use parking lamps (the design of which is specified) on vehicles parked within 100 yd. of a sireet lamp, whether illuminated or not, in a street having a speed limit of 30 m.p.h., provided that the vehicle is more than 15 yd. from a road intersection. The lamp must be in the same street as the vehicle, which must be left close and parallel to the kerb on the near 'side.
Parking without lights within 100 yd. of an illuminated street lamp will be allowed on any part of the road specially set aside for parking or as a hackney-carriage stand, and on any road where unilateral waiting is enforced. This concession is contingent upon the consent of the Chief Officer of Police. • It will also be legal to leave an unlighted vehicle on any other parking place forming part of the road tb which the public has access, such as the forecourt of an inn.
Unlighted vehicles will also be allowed to park on any other road having a 30 m.p.h. speed limit within the London Police District, any other part of the London Traffic Area subject to the consent of the Minister of Transport, and any other built-up-area subject to the permission of the Chief Officer of Police. In these cases, however, the vehicle must not be more than 25 yd. from an illuminated street lamp. as well as at least 15 yd. from a road intersection.
No exemption from normal lighting requirements will be granted in respect of vehicles parked on road verges forming part of the highway.