B.R. Losing Traffic in Scotland
10th December 1954
Page 49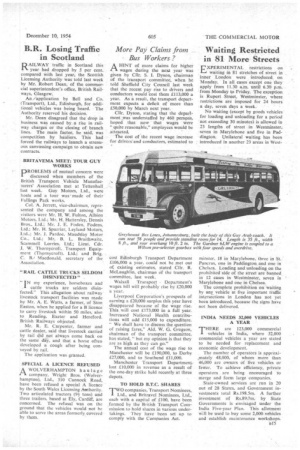 Page 49, 10th December 1954 —
B.R. Losing Traffic in Scotland
Close
AILWAY traffic in Scotland this year had dropped by 5 per cent. compared with last year, the Scottish Licensing Authority was told last week by Mr. Robert Dean, of the commercial superintendent's office, British Railways, Glasgow.
An /application by Bell and Co. (Transport), Ltd., Edinburgh, for additional vehicles was being heard. The Authority reserved his decision.
Mr. Dean disagreed that the drop in business was caused by a rise in railway charges or the closing of branch lines. The main factor, he said, was competition by hauliers. This had forced the railways to launch a strenuous canvassing campaign to obtain new contracts.
BR1TAVEMA MEET: TOUR GUY WORKS
DROBLEMS of mutual concern were
discussed when members of the British Transport Vehicle Manufacturers' Association met at Tettenhall last week. Guy Motors, Ltd., were hosts and a tour was • made of their Fallings Park works.
Col. A. Jerrett, vice-chairman, represented the company and among the visitors were Mr. H. W. Fulton, Albion Motors. Ltd.; Mr. H. Hattersley, Dennis Bros., Ltd.; Mr. J. E. Foden, Fodens, Ltd.: Mr. H. Spurrier, Leyland. Motors, Ltd..; Mr. J. Pardoe, Maudslay Motor Co.. Ltd.; Mr. B. L. Braithwaite, Scarnmell Lorries. Ltd.; Lieut. Cdr. I. W. Thornycroft, Transport Equipment (Thornycroft), Ltd.; and Brig. C. B.1 Macdonald, secretary of the Association.
"RAIL CATTLE TRUCKS SELDOM DISINFECTED" .
" IN my experience, horseboxes and cattle trucks are seldom disinfected." This allegation about railway livestock transport facilities was made by Mr. A. E. Watts, a farmer, of Stun Easton, when he applied for a B licence to carry livestock within 50 miles, also to Reading, Exeter and Hereford. British Railways objected.
Mr. R. E. Carpenter, farmer and cattle dealer, said that livestock carried by rail did not always come back on the same day, and that a horse often developed a cough after being conveyed by rail.
The application was granted.
SPECIAL A LICENCE REFUSED A WOLVERHAMPTON haulage 1--1 company, Wright Bros. (Wolverhampton), Ltd., 310 Cannock Road, have been refused a special A licence by the South Wales Licensing Authority. Two articulated tractors (91 tons) and three trailers, based at Ely, Cardiff, are concerned. The refusal was on the ground that the vehicles would not be able to serve the areas formerly covered by them.