Higher Prices .fOr Oil Fuel?
10th December 1954
Page 46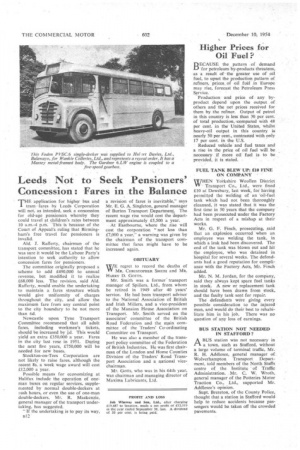 Page 46, 10th December 1954 —
Higher Prices .fOr Oil Fuel?
Close
BECAUSE the pattern of demand for petroleum by-products threatens, • as a result of-the greater use of oil fuel, to upset the production pattern of refiners, prices,. of oil fuel in -Europe may rise, forecast the Petroleum Press Service.
Production • and price of any byproduct depend upon the output of others and the net pricesreceived for them by _the refiner. Output of petrol in this country is less than 30 per cent. of total production, compared with 48 per cent. in the United States, whilst heavy-oil output in this country is nearly 50 per cent., contrasted with only 17 per cent, in the U.S.
• Reduced vehicle and fuel taxes and a rise in the price of oil fuel will be necessary if more oil fuel is to be provided, it is stated.
FUEL TANK BLEW UP: £10 F'FNE ON COMPANY WHEN Yorkshire Woollen District TY Transport Co., Ltd., were fined £10 at Dewsbury, last week, for having permitted the welding of an 'oil-fuel tank which had not been thoroughly cleansed, it was stated that it was the first time in 50 years that the company bad been prosecuted under the Factory Acts in respect of a mishap at their works.
Mr. G. F. Finch, prosecuting, said that an explosion occurred when an employee was welding the tank, in which a leak had been discovered. The end of the tank was blown out and hit the employee, who was detained in hospital for several weeks. The defendants had a good reputation for compliance with the Factory Acts, Mr. Finch added.
Mr. N. M. Jordan, for the company, said they always kept spare fuel tanks in stock. A new or replacement tank should have been drawn from stock, and the faulty tank sent for repair.
The defendants were giving every possible consideration to the injured man, and would do their best to rehabilitate him in his job. There was no question of any loss of earnings.
BUS STATION NOT NEEDED IN STAFFORD?
ABUS station was not necessary in a town. such as Stafford, without a large volume of terminal traffic, Mr. R. H. Addlesee, general manager of Wolverhampton Transport Department, told members of the North Staffs centre of the Institute of Traffic Administration. Mr. C. W. Wroth, general manager of the Potteries Motor Traction Co., Ltd., supported Mr. Addlesee's opinion,
Supt. Brereton, of the County Police, thought that a station in Stafford would help to reduce accidents because passengers would be taken off the crowded pavements.