Men In The News
10th December 1954
Page 44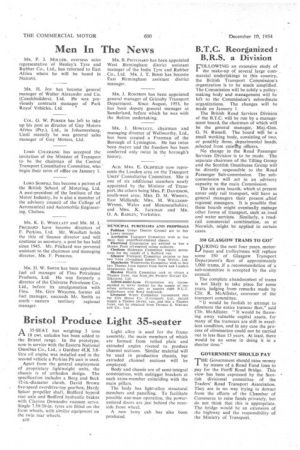 Page 44, 10th December 1954 —
Men In The News
Close
Keywords :
MR. P. J. MOLLER, overseas sales representative of Henley's Tyre and Rubber Co., Ltd., has returned to East Africa where he will be based in Nairobi.
MR. H. Joy has become general manager of Walter Alexander and Co. (Coachbuilders), Ltd. He was previously contracts manager of Park Royal Vehicles, Ltd.
CotG. W. PURSER has left to take up his post as director of Guy Motors Africa (Pty.), Ltd., in Johannesburg. Until recently he was general sales manager of Guy Motors, Ltd.
LORD COLERAINE has accepted the invitation of the Minister of Transport to be the chairman of the Central Transport Consultative Committee, who begin their term of office on January 1.
LORD SEMPILL has become a patron of the British School of Motoring, Ltd. A past-president of the Institute of the Motor Industry, he is also a member of the advisory council of the College of Aeronautical and Automobile Engineering, Chelsea.
MR. K. E. WOOLLATT and MR. M. I. PRICHARD have become directors of F. Perkins, Ltd. Mr. Woollatt holds the title of finance director and will continue as secretary, a post he has held since 1945. Mr. Prichard was personal assistant to the chairman and managing director. MR. F. PERKINS.
MR. H. W. SMITH has been appointed fuel oil manager of Fina Petroleum Products, Ltd. He was formerly a director of the Universe Petroleum Co., Ltd., before its amalgamation with Fina. MR, GUY WIGGINS, former oil fuel manager, succeeds Mr. Smith as south eastern territory regional manager.
MR. B. PRITCHARD has been appointed West Birmingham district assistant manager of the India Tyre and Rubber Co., Ltd. MR. J. T. BOND has become East Birmingham assistant district manager.
MR. J. ROSTRON has been appointed general manager of Grimsby Transport Department. Since August, 1953, he has been deputy general manager at Sunderland, before which he was with the Bolton undertaking.
MR. J. HOWLETT, chairman and managing director of Wellworthy, Ltd., has been created a Freeman of the Borough of Lymington. He has twice been mayor and the freedom has been conferred only twice in the borough's history.
ALD. MRS. E. OLDFIELD now represents the London area on the Transport Users' Consultative Committee. She is one of six additional members newly appointed by the Minister of Transport, the others being MRS. P. DAVIDSON, south-west area; MRS. D. M. W1NDEY, East Midlands: MRS. M. WILLIAMSWYNNE, Wales and Monmouthshire; and MRS. K. JACKMAN and MR. 0. A. RADLEY, Yorkshire.
Tags
People
:
M. WILLIAMSWYNNE
,
P. DAVIDSON
,
M. I. PRICHARD
,
K. E. WOOLLATT
,
J. T. BOND
,
H. W. SMITH
,
H. Joy
,
P. J. MOLLER
,
K. JACKMAN
,
J. HOWLETT
,
J. ROSTRON
,
E. OLDFIELD
,
B. PRITCHARD