B.T.C. Reorganized : B.R.S. a Division
10th December 1954
Page 44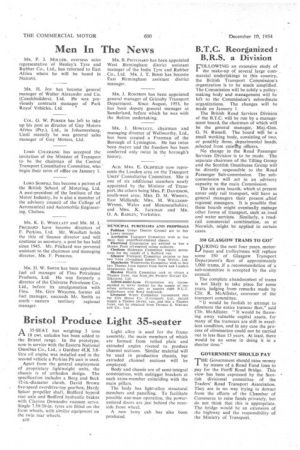 Page 44, 10th December 1954 —
B.T.C. Reorganized : B.R.S. a Division
Close
FOLLOWING an extensive study of the make-up of several large commercial undertakings in this country, the British Transport Commission's organization is to be much simplified. The Commission will be solely a policymaking body and management will be left to the Commission's subordinate organizations. The changes will be made on January 1.
The British Road Services Division, of the B.T.C. will be run by a management board, the chairman of which will be the general manager, Maj.-Gen. G. N. Russell. The board will be a small working body, consisting of two, or possibly three, departmental heads, selected from existitg officers.
No change in the Road Passenger Services Division is to be made. The separate chairmen of the Tilling Group and the Scottish Omnibuses Group will be directly responsible to the• Road Passenger Sub-commission. The subcommission will act in an advisory capacity to the main Commission.
The six area boards, which at present cover only rail transport, will have as general managers their present 'chief regional managers. It is possible that these boards might eventually manage other forms of transport, such as road and water services. Similarly, a roadrail commercial combination, as at Norwich, might be applied in certain cases.
350 GLASGOW TRAMS TO CO?
DURING the next four years, motorbuses and trolleybuses will replace some 350 of Glasgow Transport Department's fleet of approximately 1,000 trams, if a recommendation of a sub-committee is accepted by the city council.
The complete a bandonnient of trams is not likely to take place for some years, judging from remarks made by Cllr. R. McAllister, convener of the transport committee.
"It would be foolish to attempt to eliminate the entire tramcar fleet," said Cllr. McAllister. "It would be throwing away valuable capital assets, for many of the tramcars are still in excellent condition, and in any case the process of elimination could not be carried out in less than 15 years. At least, there would be no sense in doing it in a shorter time."
GOVERNMENT SHOULD PAY
THE Government should raise money by means of a Road Fund loan to pay for the Forth Road Bridge. This view has been expressed by the Scottish divisional committee of the Traders' Road Transport Association. They are in no way trying to detract from the efforts of the Chamber of Commerce to raise funds privately, but do not think that this is appropriate. The bridge would be an extension of the highway and the responsibility of the Ministry of Transport.