SATISFY SMALL MEN
10th December 1954
Page 43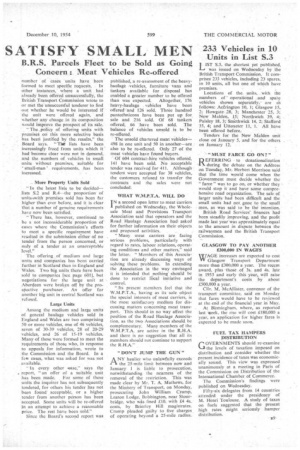 Page 43, 10th December 1954 —
SATISFY SMALL MEN
Close
B.R.S. Parcels Fleet to be Sold as Going Concern.: Meat Vehicles Re-offered
number of cases units have been formed to meet specific requests, In other instances, where a unit had already been offered unsuccessfully, the British Transport Commission wrote to or met the unsuccessful tenderer to find out whether he would be interested if the unit were offered again, and whether any change in its composition Would improve the prospect of its sale.
" The .policy of offering units with premises on this more selective basis has been justified by the, results," the Board says. "1-14 lists have been increasingly freed from units which it had become clear were not in demand, and thenumbers of vehicles in small units without premises, suitable for
small-man' requirements, has been increased.
_ More Property Units Sold "In the latest list's to be decided— lists S.2 and R.4—the proportion of units.with premises sold has been far higher than ever before, and it is clear that a number of genuine requirements have now been satisfied.
There has, however, continued to be a not inconsiderable proportion of cases where the Commission's efforts to meet a specific requirement have resulted in the submission either of no tender from the person concerned, or only of a tender at an unacceptable level."
The offering of medium and large units and companies has been carried further in Scotland than in England and Wales. Two big units there have been sold to companies rsee page 6011, hut negotiations for the large unit at Aberdeen were broken off by the prospective purchaser. An offer for another big unit in central Scotland was refused, Large Units Among the medium and large units of general haulage vehicles sold in England and Wales are two comprising 50 or more vehicles, one of 46 vehicles, seven of 30-39 vehicles, 28 of 20-29 vehicles, and 26 of 15-19 vehicles. Many of these were formed to meet the requirements of those who, in response to appeals for information, wrote to the Commission and the Board. In a few cases, what was asked for was not available.
" In every other vase," says the report, "an offer of a suitable unit has been made. For some of these units the inquirer has not subsequently tendered, for others his tender has not been found acceptable, or a higher tender from another person has been accepted. Some units will be re-offered in an attempt to achieve a reasonable price. The rest have been sold."
Since the Board's second report was published, a re-assessment of the heavyhaulage vehicles, furniture vans and tankers available for disposal has enabled a greater number to be offeted
than was expected. Altogether, 176 heavy-haulage . vehicles have been offered" and 126 sold. Three hundred pantechnicons have been put up for. sale and 216 sold. Of 68 tankers offered, 66 have been sold. The balance of vehicles unsold is to be re-offered.
The unsold chartered meat vehicles498 in one unit and 50 in another—are also to be re-offered. Only 27 of the meat vehicles have found buyers.
Of 604 contract-hire vehicles offered, 141 have been sold. No acceptable tender was received for 411. Although tenders Were accepted for 38 vehicles,. the customers refused to transfer the contracts and the sales were not concluded, WHAT W.M.P.T.A. WILL DO
IN a second open letter to meat carriers published on Wednesday, the Wholesale Meat and Provisions Transport Association said that operators and the Road Haulage Association had asked for further information on their objects and proposed activities.
" Many meat carriers are facing serious problems, particularly with regard to rates, labour relations, operating conditions and other matters," said the letter. " Members of this Association are already discussing ways of solving these problems. In extending the Association in the way envisaged it is intended that nothing' should be done to restrict reical initiative and control.
"Its present members feel that the W.M.P.T.A., having as its sole object the special interests of meat carriers, is the most satisfactory medium for discussing matters concerning meat transport. This should in no way affect the position of the Road Haulage Association, as the two Associations should be complementary. Many members of the W.M.P.T.A. are active in the R.H.A. and there is no suggestion that all its members should not continue to support the R.1-1.A."
"DON'T JUMP THE GUN"
ANY haulier who unlawfully exceeds the 25-mile limit between now and January 1 is liable to prosecution, notwithstanding the nearness of the removal of the restriction. This was made clear by Mr. T. A. Mathews, for the Ministry of Transport, on Monday, prosecuting John William Crump, Leaton Lodge, Bobbington, near Stourbridge, who was fined £10, with £4 4s. costs, by Brierley Hill magistrates. Crump pleaded guilty to five charges of operating beyond a 25-mile radius.