Passing Comments
10th December 1954
Page 40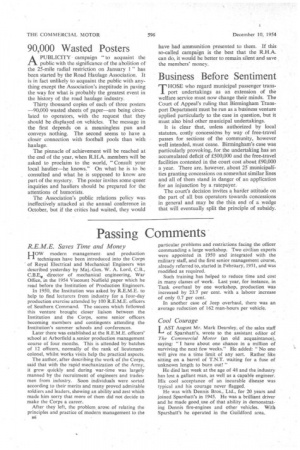 Page 41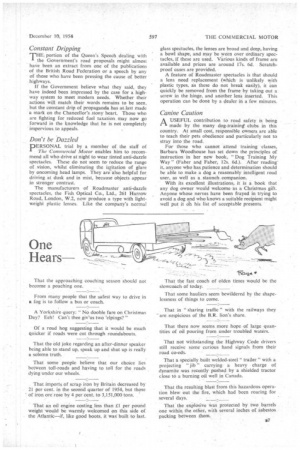 Page 40, 10th December 1954 —
Passing Comments
Close
R.E.M.E. Saves Time and Money HOW modern management. and production techniques have been introduced into the Corps of Royal Electrical and Mechanical Engineers was described yesterday by Maj.-Gen. W. A. Lord, C.B., C.B.Ew director of mechanical engineering, War Office, in the 1954 Viscount Nuffield paper which he read before the Institution of Production Engineers,
In 1950, the Institution was asked by R.E.M.E. to help to find lecturers from industry for a four-day production exercise attended by 100 R.E.M.E. officers of Southern Command. The success which followed this venture brought closer liaison between the Institution and the Corps, some senior officers becoming members and contingents attending the Institution's summer schools and conferences.
Later there was established at the R.E.M.E. officers' school at Arborfield a senior production management course of four months. This is attended by batches of 12 officers, normally of the rank of lieutenantcolonel, whilst works visits help the practical aspects.
The author, after describing the work of the Corps, said that with the rapid mechanization of the Army, it grew quickly and during war-time was largely manned by the recruitment of engineers and tradesmen from industry. Soon individuals were sorted according to their merits and many proved admirable soldiers and leaders, showing an ability and zest which made him sorry that more of them did not decide to make the Corps a career.
After they left, the problem arose of relating the principles and practice of modern management to the B6 particular problems and restrictions facing the officer commanding a large workshop. Two civilian experts were appointed in 1950 and integrated with the military staff, and the first senior management course, already referred to, started in February, 1951, and was modified as required.
Such training has helped to reduce time and cost in many classes of work. Last year, for instance, in Tank overhaul by one workshop, production was increased by 217 per cent. with a labour increase of only 0.7 per cent.
In another case of Jeep overhaul, there was an average reduction of 162 man-hours per vehicle.
Cool Courage
• AST August Mr. Mark Dearsley, of the sales staff .1-4 of Sparshatt's, wrote to the assistant editor of The Commercial Motor (an old acquaintance), saying: "I have about one chance in a million of surviving the next few weeks." He added: "No one will give me a time limit of any sort. Rather like sitting on a barrel of T.N.T. waiting for a fuse of unknown length to burn out!"
He died last week at the age of 48 and the industry has lost a gallant man, as well as a capable engineer. His cool acceptance of an incurable disease was typical and his courage never flagged.
He was with Dennis Bros., Ltd., for 20 years and joined Sparshatt's in 1945. He was a brilliant driver and he made good use of that ability in demonstrating Dennis fire-engines and other vehicles. With Sparshatt's he operated in the Guildford area.
Constant Dripping
THE portion of the Queen's Speech dealing with
the Government's road proposals might almost have been an extract from one of the publications of the British Road Federation or a speech by any of those who have been pressing the cause of better highways.
If the Government believe what they said, they have indeed been impressed by the case for a highway system to meet modern needs. Whether their actions will match their words remains to be seen, but the constant drip of propaganda has at. last made a mark on the Chancellor's stony heart. Those who are fighting for reduced fuel taxation may now go forward in the knowledge that he is not completely impervious to appeals.
Don't be 'Dazzled
PERSONAL trial by a member of the staff of The .Commercial Motor enables him to recommend all who drive at night to wear tinted anti-dazzle 'spectacles. These do not seem toreduce the range of vision, whilst eliminating the irritation of glare by oncoming head lamps. They are also helpful for driving at dusk and in mist, because objects appear in stronger contrast.
The manufacturers of Roadm aster anti-dazzle spectacles, the Fish Optical Co., Ltd., 261 Harrow Road, London, W.2, now produce a type with lightweight plastic tenses. Like the company's normal glass spectacles, the lenses are broad and deep, having a bowl shape, and may be worn over ordinary spectacles, if these are used. Various kinds of frame are available and prices are around 17s. 6d. Scratchproof cases are provided.
A feature of Roadmaster spectacles is that should a lens need replacement (which is unlikely with plastic types, as these do not break easily). it can quickly be removed from the frame by taking out a screw in the hinge, and another lens inserted. This operation can be done by a dealer in a few minutes.
Canine Caution
A USEFUL contribution to road safety is being
made by the many dog-training clubs in this country. At small cost, responsible owners are able to teach their pets obedience and particularly not to stray into the road.
For those who cannot attend training classes, Barbara Woodhouse has set down the principles of instruction in her new book, "Dog Training My Way" (Faber and Faber, 12s, 6d.). After reading' it, anyone who has patience and determination should be able to make a dog a reasonably intelligent road user, as well as a staunch companion.
With its excellent illustrations, it is a book that any dog owner would welcome as a Christmas gift. Anyone whose nerves have been frayed in trying to avoid a dog and who knows a suitable recipient might well put it 0.11 his list of acceptable presents.