Attention to Deta . il Keeps theW heels Turning Importance of
10th December 1948
Page 49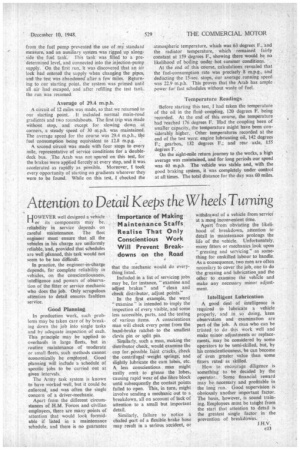 Page 49, 10th December 1948 —
Attention to Deta . il Keeps theW heels Turning Importance of
Close
Making Maintenance Staffs Realise That Only Conscientious Work Will Prevent Breakdowns on the Road HOWEVER well designed a vehicle
or its components may be. reliability in service depends on careful maintenance. The fleet engineer must ensure that all the vehicles in his charge are uniformly reliable, and, provided that schedules are well planned, this task would not seem to be too difficult.
In practice, the engineer-in-charge depends, for complete reliability in vehicles, on the conscientiousness. intelligence and powers of observation of the fitter or service mechanic who does the job. Only scrupulous attention to detail ensures faultless service.
Good Planning
In production work, such problems may be taken care of by breaking down the job into single tasks and by adequate inspection of each. This principle may be applied to overhauls in large fleets, but in routine !maintenance of moderate or small fleets, such methods cannot economically be employed. Good planning will include a schedule of specific jobs to be carried out at given intervals.
The Army task system is known to have worked well, but it could be enforced, and was often the single concern o.f a driver-mechanic.
Apart from the different circumstances of H.M. Forces and civilian employees, there are many points of attention that would look formidable if listed in a maintenance schedule, and there is no guarantee that the mechanic would do everything listed.
Included in a list of servicing jobs may be, for instance, "examine and adjust brakes and "clean and check distributor, adjust points."
In the first example, the word examine" is intended to imply the inspection of every visible, and some less accessible, parts, and the testing of various items. A conscientious man will check every point from the hand-brake ratchet to the smallest clevis pin or split pin.
Similarly, such a man, making the distributor check, would examine the cap for possible faint cracks, check the centrifugal weight springs; and slightly lubricate the cam lobes, etc. A less conscientious man might easily omit to grease the lobes, causing rapid wear of the fibre block until subsequently the contact points failed to open. This, in turn, might involve sending a mechanic out to a breakdown, all on account of lack of attention to a small but important detail.
Similarly, failure to notice a chafed part of a flexible brake hose may result in a serious accident, or withdrawal of a vehicle from service at a moss inconvenient time.
Apart from obviating the likeli. hood of breakdown, attention to detail in maintenance prolongs the life of the vehicle. Unfortunately, many fitters or mechanics look upon "greasing and servicing" as something for unskilled labour to handle. As a consequence, two men are often necessary to cover the job, one to do the greasing and lubrication and the other to examine the veh.icle and make any necessary minor adjustment.
Intelligent Lubrication A good deal of intelligence is required to lubricate a vehicle properly, and in so doing, keen observation and examination are part of the job. A man who can be trusted to do this work well and make minor adjustments or replacements, may be considered by some operators to be semi-skilled, but, by his conscientiousness, he can become of even greater value than some fitters rated as skilled.
How to encourage diligence is something to be decided by the operator. Some financial reward may be necessary and profitable in the long run. Good supervision is obviously another important factor. The basis, however, is sound training. Employees must be taught from the start that attention to detail is the greatest single factor in the prevention of breakdowns.
J.H.V. c13