New Holiday and Pay Proposals
10th December 1948
Page 31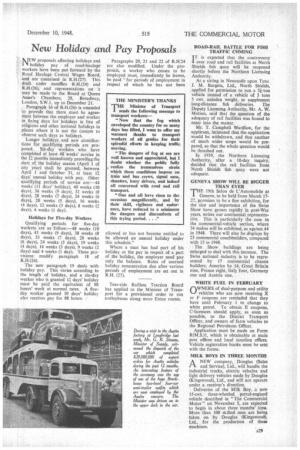 Page 31, 10th December 1948 —
New Holiday and Pay Proposals
Close
N"proposals affecting holidays and holiday pay of road-haulage workers have been put forward by the Road Haulage Central Wages Board, and are contained in R.H.(27). This draft order modifies R.H.(24) and R.H.(26), and representations on it may be made to the Board at Queen Anne's Chambers, 28, Broadway, London. S.W.1, up to December 21.
Paragraph 16 of R.H.(26) is amended to provide that there must be agreement between the employer and worker in fixing days for holidays in lieu of religious and other national holidays in places where it is not the custom to observe such days as holidays.
Longer holidays and new classifications for qualifying periods are proposed. Six-day workers who have completed at least 48 weeks' service in the 12 months immediately preceding the start of the holiday season (April 1 of any year) shall be granted, between April 1 and October 31, at least 12 days' annual holiday with pay. Other qualifying periods of service are:-44 weeks (II days' holiday), 40 weeks (10 days), 36 weeks (9 days), 32 weeks (8 days), 28 weeks (7 days). 24 weeks (6 days), 20 weeks (5 days), 16 weeks (4 days), 12 weeks (3 days), 8 weeks (2 days), 4 weeks (1 day).
Holidays for Five-day Workers Qualifying periods for five-day workers are as follow:-48 weeks (10 days), 43 weeks (9 days), 38 weeks (8 days), 33 weeks (7 days), 28 weeks (6 days), 24 weeks (5 days), 19 weeks (4 days), 14 weeks (3 days), 9 weeks (2 days) and 4 weeks (1 day). These provisions modify paragraph 18 of R.H.(24).
The new paragraph 19 deals with holiday pay. This varies according to the length of holiday, and a six-day worker who is granted 12 days' holiday must be paid the equivalent of 88 hours' work at normal rates. A fiveday worker granted 10 days' holiday also receives pay for 88 hours.
Paragraphs 20, 21 and 22 of R.H.24 are also modified. Under the proposals, a worker who ceases to be employed must, immediately he leaves, be paid for periods of employment in respect of which he has not been allowed or has not become entitled to he allowed an annual holiday under this schedule."
Where a man has had part of his holiday or the pay in respect of a part of the holiday, the employer need pay only the balance. Rates of accrued holiday remuneration due after various periods of employment are set out in R.H. (27).
Tees-side Railless Traction Board has applied to the Minister of Transport for a provisional order to run trol leybuses along more Eston routes.