National Express grows
10th August 1989
Page 16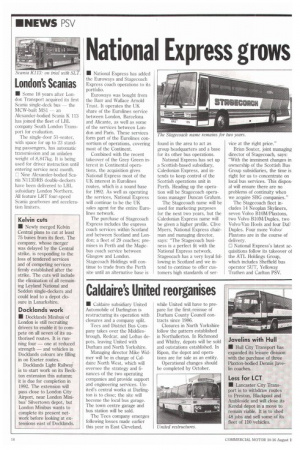 Page 16, 10th August 1989 —
National Express grows
Close
Keywords :
Bus Transport In The United Kingdom
,
Perth, Scotland
,
Stagecoach Group
,
Transport In Glasgow
,
Stagecoach Express
,
No Frills
,
Eurolines
,
National Express Group
,
Magic Bus
,
Coach Services In The United Kingdom
,
Scottish Citylink
,
Business / Finance
• National Express has added the Euroways and Stagecoach Express coach operations to its portfolio.
Euroways was bought from the Barr and Wallace Arnold Trust. It operates the UK share of the Eurolines service between London, Barcelona and Alicante, as well as some of the services between London and Paris. These services form part of the Eurolines consortium of operations, covering most of the Continent.
Combined with the recent takeover of the Grey Green interest in Continental operations, the acquisition gives National Express most of the UK interest in Eurolines routes, which is a sound base for 1992. As well as operating the services, National Express will continue to be the UK sales agent for the entire Eurolines network.
The purchase of Stagecoach Express includes the express coach services within Scotland and between Scotland and London: a fleet of 29 coaches; premises in Perth and the Magicbus coach service between Glasgow and London. Stagecoach Holdings will continue to trade from the Perth site until an alternative base is found in the area to act as group headquarters and a base for its other bus operations.
National Express has set up a Scottish-based subsidiary, Caledonian Express, and intends to keep control of the Scottish operations unit in Perth. Heading up the operation will be Stagecoach operations manager Duncan Graham.
The Stagecoach name will be used for marketing purposes for the next two years, but the Caledonian Express name will be given a higher profile. Clive Myers, National Express chairman and managing director, says: 'The Stagecoach business is a perfect fit with the National Express network. Stageocach has a very loyal following in Scotland and we intend to continue to offer customers high standards of ser
vice at the right price."
Brian Souter, joint managing director of Stagecoach, says: "With the imminent changes in ownership of the Scottish Bus Group subsidiaries, the time is right for us to concentrate on local bus services. This disposal will ensure there are no problems of continuity when we acquire SBG companies."
The Stagecoach fleet includes 14 Neoplan Skyliners, seven Volvo BlOM/Plaxtons, two Volvo BlOM/Duples, two VolvoNan Hoots and four Daf/ Duples. Four more Volvo/ Plaxtons are in the course of delivery.
0 National Express's latest acquisitions follow its takeover of the ATL Holdings Group, which includes Sheffield bus operator SUT, Yelloway Trathen and Canton PSV.