LATEST NEWS FROM THE TRAFFIC AREAS .
9th September 1932
Page 66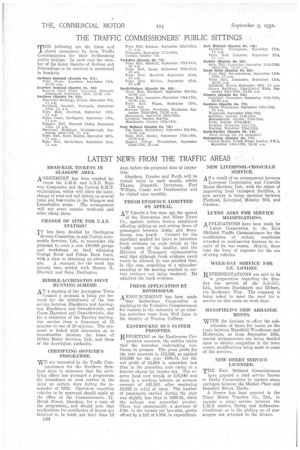 Page 67
Page 66, 9th September 1932 —
LATEST NEWS FROM THE TRAFFIC AREAS .
Close
ROAD-RAIL TICKETS IN GLASGOW AREA.
AGREEMENT has been reached be tween the L.M.S. and L.N.E. Railway Companies and the Central S.M.T. organization, which will allow the interchange of road and rail tickets on several train and bineroutes in the Glasgow and Lanarkshire areas. The arrangement will not cover certain week-end and other cheap fares.
CHANGE OF SITE FOR U.AS. STATION?
IT has been decided by Darlington Streets Committee to ask United Automobile Services, Ltd., to reconsider the proposal to erect a new £40,000 garage and workshops on land adjoining Grange Road and Polam Back Lane, with a view to obtaining an alternative Site. A contract for the work has already been settled with Messrs. R. Elackett and Sons, Darlington.
RIBBLE-ACCRINGTON JOINT RUNNING SCHEME.
AT a meeting of the Accrington Town
Council a proposal is beine' put forward for the withdrawal of the bus service between Blackburn and Acerineton, Blackburn and Oswaldtwistle, and Great Harwood and Oswaldtwistle, also for a reduction of the Burnley-Accrington service from a frequency of 15 minutes to one of 20 minutes. The proposal is linked with discussion as to co-ordination between the buses of Ribble Motor Services, Ltd., and those of the Accrington authority.
CERTIFYING _OFFICER'S PROGRAMME.
WE are requested by the Traffic Com missioners for the Northern Scotland Area to announce that the certifying officer has arranged a programme for attendance at nine centres in the Area on certain days during the remainder of 1932. Operators requiring vehicles to be approved should apply at the office of the Commissioners, 17, Broad Street, Aberdeen, for a copy of the programme,. and should note that applications for certificates of fitness are required to be made not later than 14 c44 days before the proposed date of inspection.
Aberdeen, Dundee and Perth will be visited twice in each month, whilst Thurso, Dingwall, Inverness, Fort William, Cuixir and Dunfermline will be visited once monthly.
FRESH EVIDENCE ADMITTED ON APPEAL.
AT Lincoln a few days ago the appeal of the Enterprise and Silver Dawn Co., against certain licenee conditions affecting picking-up and setting down of passengers between Ashby and Scun thorpe, was heard. Counsel for the appellant applied for leave to introduce fresh evidence on such points as the traffic needs of the locality, and the Ministry of Transport representative said that although fresh evidence could rarely be allowed, he was satisfied that, in this case, something of a misunderstanding at the hearing resulted in certain evidence not being tendered. Be admitted the fresh evidence.
FRESH APPLICATION BY ROTHERHAM.
hiNNOUNCEMENT has been made that Rotherham Corporation is npplying to the Yorkshire Commissioners for consent to the extension of an existing motorbus route from Well Lane to the vicinity of Treeton Colliery.
EASTBOURNE BUS SYSTEM PROSPERS.
REPORTING on the Eastbourne Cor poration accounts, the auditor states that the motorbus undertaking continues to prosper. The gross profit for the year amounts to £15,396, as against £16,000 for the year 1930-21, but the net profit of £4,564 is somewhat less than in the preceding year owing to a heavier charge for income tax. The reserve fund now stands at £16,840 and there is a 'working balance on revenne account of £45,503, after employing £6,520 in relief of rates. The number of passengers carried during the year was slightly less than in 1930-31, while the mileage was somewhat greater. There was consequently a decrease of 0.8(1. in the income per bus-mile, partly off-set by a fall of 0.36(1. in expenditure.
NEV LIVERPOOL-CROSVILLE SERVICE.
A S a result of an arrangement between
Liverpool Corporation and Crosville Motor Services, Ltd., with the object of improving local_ transport facilities, a new service is being operated between Pierhead, Liverpool, Mossley Hill, and Garston.
LUTON ASKS FOR SERVICE MODIFICATIONS.
APPLICATIONS have been made by Luton Corporation to the East Midland Traffic Commissioners for the modification of certain conditions attached to road-service licences in re speet of its bus routes. Mainly, these take the form of requests for the use of extrit vehicles.
WEEK-DAY SERVICE I OR S.E. LONDON.
REPRESENTATIONS are said to be
in preparation regarding the Sunday bus service of the L.G.O.C. Ltd.' between Blackheath and Eltham, via Rochester Way. The company is being asked to meet the need for a service on this route on week days.
MANSFIELD'S NEW ARRANGEMENTS. •
WITH the decision to effect the sub stitution of buses for trams on the route between Mansfield Woodhouse and Huthwaite, as from September 18th, special arrangements are being decided upon to obviate congestion in the town centre, modifications being made to some of the services.
NEW DERBY SERVICE LICENSED.
THE East Midland Commissioners have granted a road service licence to Derby Corporation to operate stage carriages between the Market Place and Beaufort Street, Derby.
A licence hait been granted to the Trent Motor Traction Co., Ltd., to operate a stage service between the L.M.S. station, Derby, and Ashbourne. Conditions as to the picking up of passengers are attached to the licence.
NEWCASTLE-LONDON SERVICES MAY BE IMPROVED.
WITH the acquisition by United Auto Mobile 'Services, Ltd., of control of Majestic Saloon Coaches (Newcastle and London), Ltd., it is anticipated that an improved road service between Newcastle and London will materialise, Although the two companies will continue as separate entities, the control being only a financial one, the two longdistance services will in future run in co-operation instead of in competition.
KEIGHLEY-WEST YORKSHIRE COMPANY FORMED.
FOLLOWING the announcement in
our issue for last week, we have now to report that Keighley-West Yorkshire. Services, Ltd., was registered as a public company on September 2nd, the capital being 11,000. Keighley Corporation and the West Yorkshire Road Car Co., Ltd., have jointly contributed assets and services, and the division of net profits will be on a basis of equality. The first directors are Messrs. J. F. Heaton, H. Raworth, G. Cardwell, F. J. Chapple, M. P. Cryer, A. Smith and J. S. Binns, the first four of these being officials of the West Yorkshire con. CCM
APPEAL REGARDING "ANYWHERE" TICKETS.
THE transport committee of Man
chester Corporation, has adopted a resolution approving of the action taken by the town clerk in lodging an appeal with reference to the restriction on the Altrincham and Cheadle routes, in regard to the issue of Is. " anywhere " tickets.
SIMPSON'S EXPRESS: DIVIDEND EXPECTED.
AS liquidator of Simpson's Express Service, Ltd., Mr. E. J. Bell, A,C.A., 23, King Street, London, E.C.2, announces that he is about to declare a first dividend. Those having claims on the company should notify him immediately.
APPEAL DECISIONS.
AREA Traffic Commissioners announce the following intimations from the Ministry of Transport concerning recant appeals :— Soul:HERR SCOTLAND.
Caledonian Omnibus Co., Ltd., .Dum fries. Appeal fails, appellant to pay costs.
A.A. Motor Services, Ltd., Saltcoats. Appeal fails, appellant to pay costs.
L.M.S. Railway Co. Appeal withdrawn.
Ayr and District Motor Services, Ltd., Ayr. Appeal withdrawn.
Scottish Motor Traction Co., Ltd., Edinburgh. Appeal withdrawn. NOTiTEC-WESTERN.
East Lancashire Motors, Ltd., Blackburn. Appeel fails, appellant to pay costs.
EASTERN.
Mr. P. Wheatley, Cambridge. Appeal fails, appellant to pay costs.
SUCCESSFUL M.H.C.S.A. MEETING.
THE M.H.C.S.A. council meeting, held on September 2nd, was attended by several delegates from affiliated associations, and useful work was done. The resolutions passed at the mass meeting on August 21st were considered, especially that relating to the formation of a strong Parliamentary force to protect road transport against monopoly and bureaucracy.
RED AND WHITE SERVICES:. CARDIFF TERMINAL APPROVED.
DESPIT'E strong opposition by the Cardiff police, and Cardiff Corporation, a successful application was made by Red and White Services, Ltd., to the South Wales Commissioners, on September 1st, for sanction to extend their termini at Cardiff from Eitzalan Road (eastern end) and Kingsway .(city centre) to their Wood Street garage cod headquarters.
The basis of the application was that at the large ,garage at Wood Street there would be better facilities for supervision and for the public.
It was said that the police viewed the proposal with alarm and as a menace to public safety.
BOLTON CONFERS REGARDING TROLLEY-BUSES.
AT a transport-committee meeting held recently at Bolton the special subcommittee considering systems of passenger transport reported that it visited Wolverhampton, Birmingham, Nottingham and Chesterfield and made inspections of, and inquiries as to, trolley-bus services in operation in those towns. Subsequently Mr. E. H. Edwards, general manager of the South Lancashire Transport Co., conferred with the sub-committee as to the intentions of the company with regard to the tram track from Leigh to Hullo's Four Lane Ends. ANOTHER BIRMINGHAM • TROLLEY-BUS PROPOSAL. INSTEAD of track reconstruction on Coventry Road, the cost of which would be nearly 128,000, the tramways and motorbus committee of Birmingham Corporation has recommended the adoption of trolley-buses.
The Coventry Road service is regarded as one of the least remunerative and it is understood that new tramcars would need to be purchased if the track were relaid. The committee has stated clearly that it is not intended to enter into a wholesale abandoning of tramways, the policy being to deal as occasion arises with routes where it would appear to be unprofitable to reconstruct the track.
N.W. AREA: IMPORTANT JOINT APPEAL.
A JOINT appeal is to be lodged by Bolton Corporation, Stalybridge Transport and Electricity Board and the Lancashire United Transport and Power Co., Ltd., against a recent decision a the North Western Commissioners, preventing the working of services between Bolton and Hyde, through Manchester. Manchester Watch Committee is not appealing.
TINTERN ABBEY TRIPS MAY CEASE.
A DECISION by H.M. Office of Works to close Tintern Abbey during the harvest moon period is cansing vexation to South Wales coach proprietors arid
is certain to result in financial loss. .
Every year during harvest moon hundreds of special trips have been made to Tintern Abbey from various centres. The decision will apply experimentally this year.
LONDON COACH APPEALS:* IMPORTANT POSITION.
AT the hearing on September 6th of
the appeal of Westminster Coaching Services, Ltd., in connection, with routes entering London, counsel for the appellant objected to the fact that the Minister of Transport had adopted the Amulree Repert, particularly in regard to the statement of the Commissioner of Police, who did not give evidence before the committee and was, therefore, not cross-examined.
Counsel stated that he did not desire . to proceed with the hearing unless the Minister could undertake to withdraw his adoption of that part of the report. The Minister's representative, after a brief adjournment, was not in a position to give the undertaking and, in consequence, the case was adjourned.
Counsel objected also to the need for proving that a service was necessary, stating that, according to the Road Traffic Act, it was -necessary only to show that a service was "necessary or desirable." The company was represented by Sir Walter Greaves-Lord, MC., M.P., and Mr. R. T. Winfrey, instructed by Mr. J. R. Cort Bathurst.
Incidentally, there is an opinion that, in adopting the report, the Minister has fettered the discretion which must be exercised in the manner provided in section Si. of the Road Traffic Act.
Counsel for United Service Transport Co., Ltd., stated that his case would be similarly affected, whereupon an adjournment was granted. The M.H.C.S.A. is circularizing all affected operators on these points.
Tags
Locations
:
Dundee
,
Aberdeen
,
Chesterfield
,
Perth
,
Burnley
,
Birmingham
,
DERBY
,
LIVERPOOL
,
Wolverhampton
,
Lanarkshire
,
Manchester
,
Cambridge
,
Cardiff
,
GLASGOW
,
Nottingham
,
LONDON
,
Edinburgh
,
NEWCASTLE