Controlling Road Traffic in Argentina.
9th September 1932
Page 43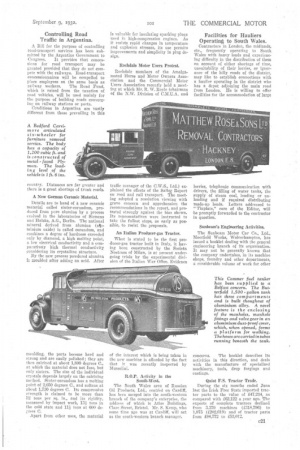 Page 43, 9th September 1932 —
Controlling Road Traffic in Argentina.
Close
A Bill for the purpose of controlling road-transport services has been submitted by the Argentine Government to
Congress. It provides that concessions for road transport may be granted provided that they do not compete with the railways. Road-transport concessionnaires will be compelled to place employees on the same basis as
railway workers. The Road Fund, which is raised from the taxation of road vehicles, will be used mainly for the purpose of building roads converging on railway stations or ports.
Conditions in Argentina are vastly different from those prevailing in this
country. Distances are far greater and there is a great shortage of trunk roads.
A New German, Ceramic Material.
Details are to hand of a new ceramic material called sinter-corundum, produced from pure alumina by a process evolved in the laboratories of Siemens and Halske, A.G., Berlin. The national mineral derived from alumina (AiMilli= oxide) is called corundum, and combines a degree of hardness exceeded only by diamond, a high melting point, a low electrical conductivity and a comparatively •high thermal conductivity considering its crystalline structure.
By the new process powdered alumina L moulded after adding an acid. After moulding, the parts become hard and strong and are easily polished ; they are then calcined at about 1,800 degrees Ce at which the material does not fuse, but only sinters. The size of the individual crystals depends largely Cu the calcining method. Sinter-corundum has a melting point of 2,050 degrees C., and softens at about 1,730 degrees C. Its compressive strength is claimed to be more than 32 tons per sq. in., and its rigidity, measured by impact work, 131 tons in the cold state and 111tons at 600 detrees C.
Apart from other uses, the material Is valuable for insulating sparking plugs used in high-compression engines. As it resists, rapid changes in temperature and explosion stresses, its use permits improvements and simplicity in plug design.
Rochdale Motor Users Protest.
Rochdale members of the Amalgamated Horse and Motor Owners Asso-, ciation and the Commercial Motor Users Association recently held a meeting at which Mr. R. W. Royle (chairman of the N.W. Division of C.M.U.A. and
traffic manager of the Ltd.) ex
plained the effects of the Salter Report onroad and rail transport. The meeting adopted a resolution viewing with grave concern and apprehension the recommendations in the report, and protested strongly against the bias shown. Its representatives were instructed to take the fullest steps, as early as possible, to resist the proposals.
An Italian Producer-gas Tractor.
What is stated to be the first producer-gas.tractor built in Italy, it having been constructed by the Soeieta Nostrum of Milan, is at present undergoing trials by the experimental division t.f the Italian War Office. Evidence
of the interest which is being taken in the new machine is afforded by the fact that it was recently inspected by Mussolini.
R.O.P. Activity in the South-West.
The South Wales area of Russian Oil Products, Ltd., centied on Cardiff, has been merged into the south-western branch of the company's enterprise, the address of which is Atlas Buildings, Clare Street, Bristol. Mr. S. Kemp, who some time ago was at Cardiff, will act as the south-western branch manager.
Facilities for Hauliers Operating to South Wales.
Contractors in London, the midlands, etc., frequently operating to South Wales with heavy loads and experiencing difficulty in the distribution of them on account of either shortage of time, unsuitability of their lorries, or ignorance of the hilly roads of the district, may like to establish connections with a haulier operating in the district who has a depot adjoining the main road from London. He is willing to offer facilities for the accommodation of large lorries, telephonic communication with drivers, the filling of water tanks, the supply of steam coal, loading or unloading and if required distributing made-up loads. Letters addressed to "Tinplate," care of the Editor, will be promptly forwarded to the contractor in question.
Sunbeam's Engineering Activities, The Sunbeam Motor Car Co., Ltd., Moorfield Works, Wolverhampton, has issued a booklet dealing with the general engineering branch of its organization. It may not be generally known that the company undertakes, in its machine shops, foundry and other departments, a considerable volume of work for other concerns. The booklet describes its activities in this direction, and deals with the manufacture of specialized machinery, tools, drop forgings and castings.
Quiet F.S. Tractor Trade.
During the six months ended Juno last the Irish Free State imported tractor parts to the value of £47,234, as compared with /62,122 a year ago. The exports of complete tractors declined from a,270 machines (1318,796) to 1,975 (£202,019) and of tractor parts from £84,772 to £53,012.