Burnley Corporation has not yet taken any action on the motorbus powers which it possesses.
9th September 1909
Page 6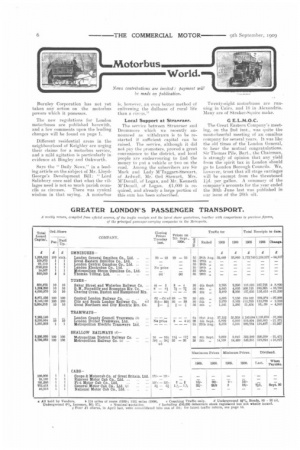 Page 6, 9th September 1909 —
Burnley Corporation has not yet taken any action on the motorbus powers which it possesses.
Close
The new regulations for London motorbuses are published herewith, and a few comments upon the leading changes will be found on page 1.
Different residential areas in the neighbourhood of Keighley are urging their claims for a motorbus service, and a mild agitation is particularly in evidence at Bingley and Oakworth.
Says the Daily News." in a leading article on the subject of Mr. LloydGeorge's Development Bill: " Lord Salisbury once said that what the villages need is not so much parish coun cils as circuses. There was cynical wisdom in that saying. A motorbus is, however, an even better method of enlivening the dullness of rural life than a circus."
Local Support at Stranraer.
The service between Stranraer and Drummore which we recently announced as withdrawn is to be restarted if sufficient capital can be raised. The service, although it did not pay the promoters, proved a great convenience to the district, and local people are endeavouring to find the money to put a vehicle or two on the road. Among the subscribers are Sir Mark and Lady M'Taggart-Stewart, of Ardwell, Mr. Ord Stewart, Mrs. l'a'Dounil, of Logan, and Mr. Kenneth M'Donall, of T,ogan. :C1,000 is required, and already a large portion of tins sum has been subscribed.
Twenty-eight motorbuses are running in Cairo, and 10 in Alexandria. Many are of Straker-Squire make.
The Great Eastern Company's meeting, on the 2nd inst., was quite the most-cheerful meeting of an omnibus company for several years. It was like the. old times of the London General, to hear the mutual congratulations. Sir Thomas Pile, Bart., the Chairman, is strongly of opinion that any yield from the spirit tax in London should go to London Borough Councils. We, however, trust that. all stage carriages will be exempt from the threatened
per gallon. A summary of the company's accounts for the year ended the 30th June last wits published in our issue of the 20th tilt.