South Africa Demands Special Vehicles
9th May 1952
Page 57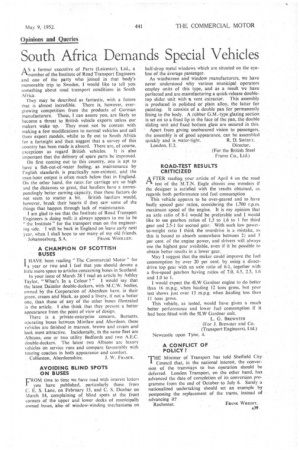 Page 57, 9th May 1952 —
South Africa Demands Special Vehicles
Close
As a former executive of Parrs (Leicester), Ltd., a member of the Institute of Road Transport Engineers and one of the party who joined in that body's memorable trip to Sweden, I would like to tell you something about road transport conditions in South Africa.
They may be described as fantastic, with a future that is almost incredible. There is, however, evergrowing competition from the products of German manufacturers. These. I can assure you, are likely to become a threat to British vehicle exports unless our makers wake up. They must not be content with making a few modifications to normal vehicles and call them export models, whilst to fly out to South Africa for a fortnight and then suggest that a survey of this country has been made is absurd. There are, of course, exceptions as regard British vehicles. It is also important that the delivery of spare parts be improved.
On first coming out to• this country, one is apt to have a fish-out-of-water feeling, as maintenance by English standards is practically non-existent, and the man-hour output is often much below that in England. On the other hand, the rates for carriage are so high and the distances so great, that hauliers have a correspondingly better earning capacity, thus these factors do not seem• to matter a bit. . British hauliers would, however, break their hearts if they, saw some of the things that happen through lack of maintenance.
I am glad to see that the Institute of Road Transport Engineers is doing well; it always appears to me to be "the Institute" for the transport man on the engineering side. I will be back in England on leave early next year. when I shall hope to see many of my old friends.
Johannesburg, S.A. FRANK WOOLLEY.
A CHAMPION OF SCOTTISH BUSES I HAVE been reading "The Commercial Motor " for k a year or two and I feel that you should devote a little more space to articles concerning buses in Scotland.
fa your issue of March 28 I read an article by Ashley Taylor, "What's In a colour?" 1 would say that the latest Daimler double-deckers, with M.C.W. bodies, owned by the Corporation of Aberdeen have, in their green; cream and black, as good a livery, if not a better one, than those of any of the other buses illustrated in the article. I also think that they present a better appearance from the point of view of design.
There is a private-enterprise concern. Burnetts, operating buses between Mintlaw and Aberdeen, these vehicles are finished in maroon, brown and cream and look most attractive. Incidentally; in the same fleet arc Albions, one or two utility Bedfords and two A:E.0 double-deckers. The latest two Albions are luxury vehicles on service runs and compare favourably with touring coaches in both appearance and comfort,
. Collieston, Aberdeenshire. J. W. FRASER.
AVOIDING. BLIND SPOTS ON BUSES FROM time to time we have read with interest letters you have published, particularly those from C. E. .5. Lane, on February 15, and C. S. Dunbar on March 14, complaining of blind spots at the front corners of the upper and lower decks of municipally owned buses, also of window-winding mechanisms on half-drop -metal windows which are situated on the eyeline of the average passenger.
As windscreen and window manufacturers, we have never understood why various municipal operators employ units of this type, and as a result we have perfected and are manufacturing a quick-release doubletop slider unit with a vent extractor. This assembly is produced in polished or plain alloy, the latter for painting. It consists of a double pan for permanently fixing to the body, . A rubber G.M.-type glazing section is set on to a fixed lip in the face of the pan, the double sliding unit and fixed bottom glass are secured in this.
Apart from givitig unobseured vision to passengers, the assembly is of good appearance, can be assembled quickly and is .water-tight. R. D. Smar.T.
London. E.2. Director, (For the British Steel Frame Co., Ltd.) ROAD-TEST RESULTS CRITICIZED A FTER reading your article of April 4 on the road test of the M.T.N. Eagle chassis one wonders if the designer is satisfied with the results obtained, as regards both performance and fuel consumption This vehicle appears to be over-geared and to have badly spaced gear ratios, considering the 1,700 r.p.m. maximum speed of the engine. It is my opinion, that an axle ratio of 8-1 would .be preferable and I would like to see gearbox ratios of 1,5 to 1.6 to 1 for third gear and 2,5-1 for second gear. With such low powerto-weight ratio I think the overdrive is a mistake, as this is bound to absorb somewhere between 21 and 5 per cent. of the engine power, and drivers will always use the highest gear available. even if it be possible to obtain better results in a lower gear.
May I suggest that the maker could improve the fuel consumption by over 20 per cent. by using a directdrive top gear with an axle ratio of 6-1, together with a five-speed gearbox having ratios of 7.0, 4.5, 2.5, 1.6 and 1.0 to I.
I would expect the 4LW Gardner engine to do better than 16 m.p.g.. when hauling 12 tons gross. hut your test "shows just over. 13 M.p.g. when hauling less than 11 tons gross.
This vehicle, as tested, would have given a much better performance and lower fuel consumption if it had been fitted with the 5LW Gardner unit.
L. U. BREWSTER (For J. Brewster and Co. (Transport Engineers), Ltd.) Newcastle upon Tyne. 4.
A CONFLICT OF POLICY?
THE Minister of Transport has told Sheffield City Council that, in the national interest, the conversion of the tramviays to bus operation should be deferred. London Transport, on the other hand, has advanced the date of completion of its conversion programme from the end of October to July 6. Surely a nationalized undertaking should set an example by postponing the replacement of the trams, instead of advancing it?
Rochester. FRANK WRIGHT.