Good Lubrication is Economical
9th May 1952
Page 41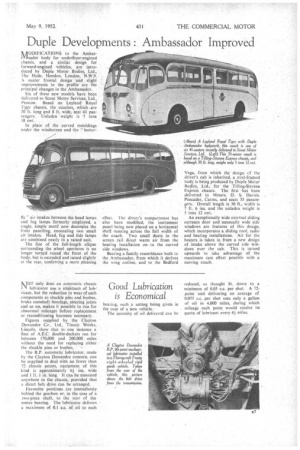 Page 41, 9th May 1952 —
Good Lubrication is Economical
Close
NOT only does an automatic chassis lubricator use a minimum of lubricant, but the reduction in wear of stich components as shackle pins and bushes, brake camshaft bearings, steering joints and so on, makes it possible to run for abnormal mileages before replacement or reconditioning becomes necessary.
Figures supplied by the Clayton Dewandre Co., Ltd., Titanic Works, Lincoln, show that in' one instance a fleet of A.E.C. double-deckers ran for between 170,000 and 200,000 miles without the need for replacing either the shackle pins or bushes.
The R.P. automatic lubricator, made by the Clayton Dewandre concern, can be supplied to deal with no fewer than 72 Chassis points, equipment of this kind is approximately 6+ ins, wide and 1 ft. 1 in. long: It can be mounted anywhere in the chassis, provided that a direct belt drive can be arranged.
Favourite positions are imniediately behind the gearbox or, in the case of a two-piece shaft, to the rear of the centre bearing. The lubricator delivers a maximum of 0.1 c.c. of oil to each bearing, such a setting being given, in the case of a new vehicle.
The quantity of oil delivered can he reduced, : as thought fit, down to a minimum of 0.05 c.c. per shot: A 72point unit delivering an average of 0,075 c.c. per shot uses only a gallon of oil in 4,000 miles, during which mileage each point would receive its quota of lubricant every 4i Miles.