Perkins "Produced" 2.1 m. B.H.P. in 1951
9th May 1952
Page 36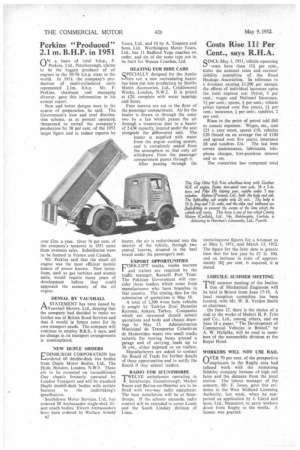 Page 36, 9th May 1952 —
Perkins "Produced" 2.1 m. B.H.P. in 1951
Close
(IN a basis of total b.h.p., F. %-/ Perkins, Ltd., Peterborough, claims to be the biggest producer of oil engines in the 50-70 b.h.p. class in the world. In 1951, the company's production of multi-cylindered units represented 2.1m. la.h.p. Mr. F. Perkins, chairman and managing director, gave this information in his annual report.
New and better designs were in the course of preparation, he said. The Government's iron and steel distribution scheme, as at present operated, threatened to curtail the company's production by 38 per cent. of the 1952 target figure and to reduce exports by over £2m. a year. Over 70 per cent, of the company's turnover in 1951 came from overseas sales. Subsidiaries were to be formed in France and Canada.
Mr. Perkins said that the small oil engine was the most efficient mobile source of power known. New inventions, such as gas turbines and atomic units, would require many years of development before they could approach the economy of the oil engine.
DENIAL BY VAUXHALL
A STATEMENT has been issued by 1-IVauxhall Motors, Ltd., denying that the company had decided to make no further use of British Road Services and that it would in future cater for its own transport needs. The company will continue to employ &RS., it says, and no change in its transport arrangements is contemplated.
NEW DUPLE ORDERS
EDINBURGH CORPORATION has ordered 60 double-deck bus bodies from Duple Motor Bodies, Ltd., The Hyde, Hendon, London, N.W.9. These are to be mounted on reconditioned Guy chassis formerly operated by London Transport and will be standard Duple double-deck bodies with certain
features to the undertaking's specification.
Southdown Motor Services, Ltd., has ordered 20 Ambassador single-deck 41seat coach bodies. Eleven Ambassadors have been ordered by Wallace Arnold n2 Tours, Ltd., and 10 by A. Timpson and Sons, Ltd. Worthington Motor Tours, Ltd., has II Bedford Vega coaches on order, and six of the same type are to be built for Wessex Coaches, Ltd.
HEATING FOR HIRE CARS
SPECIALLY designed for the Austin hire car, a new recirculating heater has been put into production by Smiths Motor Accessories, Ltd., Cricklewood Works, .London, N.W.2. It is priced at £20. complete with water tappings and hoses.
Four louvres are cut in the floor of the passenger compartment. Air for the heater is drawn in through the outer two by a fan which passes the air through a transverse duct to a heater of 2-kW capacity, located under the seat alongside the flifferential unit. The heater is supplied with water from the engine cooling system, and is completely sealed from the atmosphere so that only air withdrawn from the passenger compartment passes through it. After passing through the heater, the air is redistributed into the interior of the vehicle, through two central louvres, situated in the heel board under the passenger's seat.
EXPORT OPPORTUNITIES
FORK-LIFT trucks, works tractors and trailers are required by the traffic manager, Karachi Port Trust. The Pakistan Government will consider those tenders which come from manufacturers who have branches in that country. The closing date for the submission of quotations is May 19.
A total of 2,500 4-ton farm vehicles is sought by Turkiye Zirai Donatim ,Kurumu, Ankara, Turkey. Companies which are interested should submit quotations and body and chassis drawings by May •15. Administracion Municipal de Transportes Colectivos de Montevideo wants two small trucks suitable for moving buses around a, garage and of carrying, loads up to 30 cwt., either imposed or on trailers.
Manufacturers are asked to contact the Board of Trade for further details of these opportunities and to notify the Board if they submit tenders.
RADIO FOR SCUNTHORPE 'TWELVE ambulances operating in I Scunthorpe, Gainsborough, Market Rasen and Barton-on-Humber are to be fitted with two-way radio equipment. The base installation will be at Scunthorpe. If the scheme succeeds, radio control will be extended to cover Louth and the South Lindsey division of Lincs. •