Costs Rise 111 Per Cent., says R.H.A.
9th May 1952
Page 36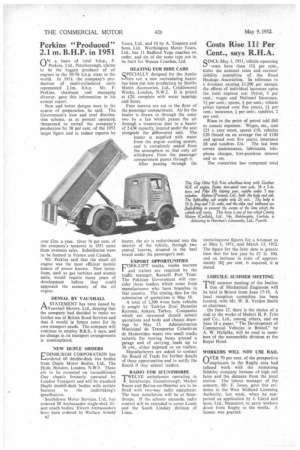 Page 36, 9th May 1952 —
Costs Rise 111 Per Cent., says R.H.A.
Close
SINCE May 1, 1951, vehicle operating
• costs have risen I I per cent., states the national rates and carriers' liability, committee of the Road Haulage Association. In reference to a 6-tanner earning £1,200 per annum, the effects of individual increases upan the total expense are: Petrol, 5 per cent.; wages and National Insurance, 11 per cent.; spares, per cent.; vehicle prices (spread over five years), I per cent.; insurance, per cent.; sundries, 2 per cent Rises in the price of petrol add £60 to annual expenses. Wages, etc., cost £21 a year more, spares £10, vehicles £20 (based on an average rise of £100 and spread over five years), insurance £8 and sundries £24. The last item covers maintenance, lubricants, telephone charges, hire-purchase interest and so on.
The committee has computed total
operating-cost figures for a 6-tonner as at May 1, 1951, and March 13, 1952. The figure for the later date is greater than that for last year by £3 Is. 10d. and an increase in rates of approximately 101 per cent, is required, it is stated.
LMECH.E SUMMER MEETING
THE summer meeting of the Institution of Mechanical Engineers will be held in Bristol from June 17-19. A local reception committee has been formed, with Mr. W. R. Verdon Smith as chairman. .
On June 17, there is the choice of a visit to the works of Hubert H. P. Trist and Co., Ltd., among others, and on June 18 a paper, "The Development of Commercial Vehicles in Bristol," by A. W. Hallpike, will be read to members of the automobile division at the Royal Hotel.
WORKERS WELL NOT USE RAIL
OVER 70 per cent. of the prospective employees in the Rugby area had refused work with the Armstrong Siddeley company because of high rail fares and the distance from the local station. The labour manager of the concern, Mr. F: Jones, gave this evidence to the West Midland Licensing Authority, last week. when he supported an application by J. Lloyd and Sons, Ltd., Nuneaton, to carry workers direct from Rugby to the works. A licence was granted.