C.D.C. Road Haulage ". Still a Worry"
9th May 1952
Page 32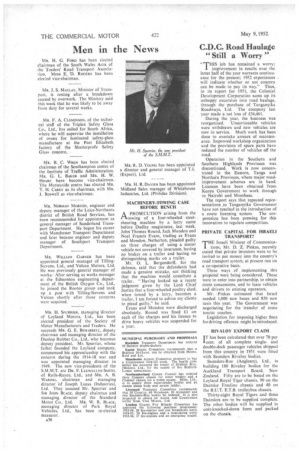 Page 32, 9th May 1952 —
C.D.C. Road Haulage ". Still a Worry"
Close
"THIS job has remained a worry; THIS in results over the latter half of the year warrants continuance for the present; 1952 experiences . will indicate whether or not concern can be made to pay its way." Thus, in its report for 1951, the Colonial Development Corporation sums up its unhappy excursion into road haulage, through the purchase of Tanganyika Roadways, Ltd. The company last year made a net loss of £34,461.
During the year, the business was reorganized. Unserviceable vehicles were withdrawn and new vehicles are now in service. Much work has been done to overtake arrears of maintenance. Improved workshop organization and the provision of spare parts have reduced the number of vehicles off. the road.
Operation in the Southern and Southern Highlands Provinces was discontinued. Work is now concentrated in the Eastern, Tanga and Northern Provinces, where major roadimprovement schemes are in hand. Licences have been obtained from Kenya Government to work through to Nairobi and Mombasa.
The report says that repeated representations to Tanganyika Government have not resulted in the introduction of a route licensing system. The corporation has been pressing for this innovation to regulate competition, PRIVATE CAPITAL FOR ISRAELI TRANSPORT?
THE Israeli Minister of Communications, Mr. D. Z. Pinkas, recently stated that private investors were to be invited to put money into the country's road transport system, at present run on a co-operative basis.
Three ways of implementing this proposal were being considered. These were to enter into partnership, to obtain route concessions, and to lease vehicles and drivers to existing operators.
Mr. -Pinkas estimated that Israel needed 1,000 new buses and 850 new taxis this year. The Government was negotiating for the transfer of some tourist coaches.
Legislation for imposing higher fines for driving offences might be introduced.
RIVALOY EXPORT CLAIM I T has been calculated that over 70 per
cent. of all complete singleand double-deck passenger vehicles shipped from this country in 1951 were fitted with Saunders Rivaloy bodies.
Saunders-Roe (Anglesey), Ltd., is building 180 Rivaloy bodies for the Auckland Transport Board, New Zealand. Fifty are to be based on the Leyland Royal Tiger chassis, 90 on the Daimler Freeline chassis and 40 on the B.U.T. E.T.B. trolleybus chassis.
Thirty-eight Royal Tigers and three Daimlers are to he supplied complete. The other bodies will be supplied in unit-knocked-down form and packed on the chassis.