Haulier loses O-licence appeal over contractor
9th June 2011
Page 8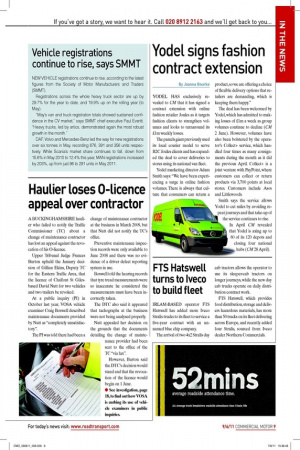 Page 8, 9th June 2011 —
Haulier loses O-licence appeal over contractor
Close
A BUCKINGHAMSHIRE haulier who failed to notify the Trafic Commissioner (TC) about a change of maintenance contractor has lost an appeal against the revocation of his O-licence.
Upper Tribunal Judge Frances Burton upheld the January decision of Gillian Ekins, Deputy TC for the Eastern Trafic Area, that the licence of Chalfont St Gilesbased David Nutt for two vehicles and two trailers be revoked.
At a public inquiry (PI) in October last year, VOSA vehicle examiner Craig Boswell described maintenance documents provided by Nutt as "completely unsatisfactory".
The PI was told there had been a change of maintenance contractor at the business in March 2009, but that Nutt did not notify the TC's ofice.
Preventive maintenance inspection records were only available to June 2008 and there was no evidence of a driver defect reporting system in use.
Boswell told the hearing records that tyre tread measurements were so inaccurate he considered the measurements must have been incorrectly taken.
The DTC also said it appeared that tachographs at the business were not being analysed properly.
Nutt appealed her decision on the grounds that the documents detailing the change of maintenance provider had been sent to the ofice of the TC "via fax".
However, Burton said the DTC's decision would stand and that the revocation of the licence would begin on 1 June.
● See investigation, page 18, to ind out how VOSA is curbing its use of vehicle examiners in public inquiries.