KEEP THOSE PIPES CLEAR
9th July 1976
Page 53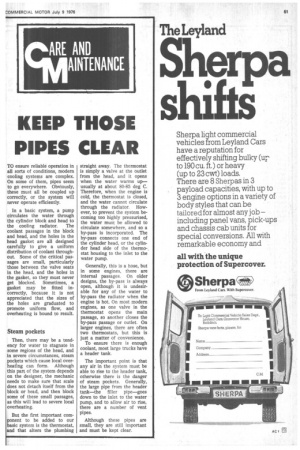 Page 53, 9th July 1976 —
KEEP THOSE PIPES CLEAR
Close
TO ensure reliable operation in all sorts of conditions, modern cooling systems are complex. On some of them, pipes seem to go everywhere. Obviously, these must all be coupled up correctly, or the system will never operate efficiently.
In a basic system, a pump circulates the water through the cylinder block and head to the cooling radiator. The coolant passages in the block and head, and the holes in the head gasket are all designed carefully to give a uniform distribution of coolant throughout. Some of the critical passages are small, particularly those between the valve seats in the head, and the holes in the gasket, so they must never get blocked. Sometimes, a gasket may be fitted incorrectly, because it is not appreciated that the sizes of the holes are graduated to promote uniform flow, and overheating is bound to result.
Steam pockets
Then, there may be a tendency for water to stagnate in some regions of the head, and in severe circumstances, steam pockets which cause local overheating can form. Although this part of the system depends on the designer, the mechanic needs to make sure that scale does not detach itself from the block or head, and then block some of these small passages, as this will lead to severe local overheating.
But the first important component to be added to our basic system is the thermostat, and that alters the plumbing straight away. The thermostat is simply a valve at the outlet from the head, and it opens when the water warms up— usually at about 80-85 deg C. Therefore, when the engine is cold, the thermostat is closed, and the water cannot circulate through the radiator. However, to prevent the system becoming too highly pressurised, the water must be allowed to circulate somewhere, and so a by-pass is incorporated. The by-pass connects one end of the cylinder head, or the cylinder head side of the thermostat housing to the inlet to the water pump.
Generally, this is a hose, but in some engines, there are internal passages. On older designs, the by-pass is always open, although it is undesirable for any of the water to by-pass the radiator when the engine is hot. On most modern engines, as one valve in the thermostat opens the main passage, so another closes the by-pass passage or outlet. On larger engines, there are often two thermostats, but this is just a matter of convenience.
To ensure there is enough coolant, most large trucks have a header tank.
The important point is that any air in the system must be able to rise to the header tank, otherwise there is the danger of steam pockets. Generally, the large pipe from the header tank—the filler pipe—goes down to the inlet to the water pump, and to allow air to rise, there are a number of vent Pipes.
Although these pipes are small, they are still important and must be kept clear.