How to soften the blow
9th July 1976
Page 52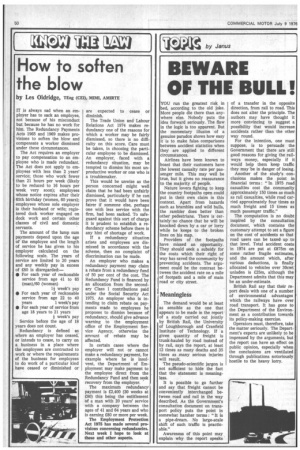 Page 52, 9th July 1976 —
How to soften the blow
Close
by Les Oldridge, TEng (CEI), MIMI, AMIRTE
IT is always sad when an employer has to sack an employee, not because of his misconduct but because he has no work for him. The Redundancy Payments Acts 1965 and 1969 makes provisions to soften the blow and compensate a worker dismissed under these circumstances.
The Act requires an employer to pay compensation to an employee who is made redundant. The Act does not apply to employees with less than 2 years' service; those who work fewer than 21 hours per week (likely to be reduced to 16 hours per week very soon); employees whose notice expires after their 65th birthday (women, 60 years); employees whose sole employer is their husband or wife; registered dock worker engaged on dock work and certain other classes of civil and domestic servants.
The amount of the lump sum payments depend upon the age of the employee and the length of service he has given to his employer calculated on the following scale. The years of service are limited to 20 years and any weekly pay in excess of £80 is disregarded:— • For each year of reckonable service from age 41 to 65 (man)/60 (woman) 1i week's pay • For each year of reckonable service from age 22 to 40 years 1 week's pay • For each year of service from age 18 years to 21 years week's pay Service before the age of 18 years does not count.
Redundancy is defined as where an employer has ceased, or intends to cease, to carry on a business in a place where the employees are contracted to work or where the requirements of the business for employees to do work of a particular kind have ceased or diminished or
are expected to cease or diminish.
The Trade Union and Labour Relations Act 1974 makes redundancy one of the reasons for which a worker may be fairly dismissed, so there is no difficulty on this score. Care must be taken, in choosing the particular employee to be dismissed. An employer, faced with a redundancy situation, may be tempted to dismiss his most unproductive worker or one who is a troublemaker.
This would he unwise as the person concerned might well claim that he had been unfairly dismissed, particularly if he can prove that it would have been fairer if someone else, perhaps one with less service with the firm, had been sacked. To safeguard against this sort of charge it is prudent to establish a redundancy scheme before there is any hint of shortage of work.
If a redundancy situation arises and employees are dismissed in accordance with the scheme, then no complaint of discrimination can be made.
An employer who makes a redundancy payment may claim a rebate from a redundancy fund of 50 per cent of the cost. The Redundancy Fund is financed by an allocation from the secondary Class I contributions paid under the Social Security Act 1975. An employer who is intending to claim rebate on payments made to employees he proposes to dismiss because of redundancy, should give advance warning to the employment office of the Employment Service Agency, otherwise the amount of rebate may be affected.
In certain cases where the employer will not or cannot make a redundancy payment, for example where he is insolvent, the Department of Employment may make payment to the employee direct from the Redundancy Fund and then seek recovery from the employer.
The maximum redundancy' payment is £2,400 (30 weeks at £80) this being the entitlement of a man with 20 years' service with a company between the ages of 41 and 64 years and who is earning £80 or more per week.
The Employment Protection Act 1975 has made several provisions concerning redundancies. Next week I hope to look at these and other aspects.