Why councils want bus control
9th July 1976
Page 22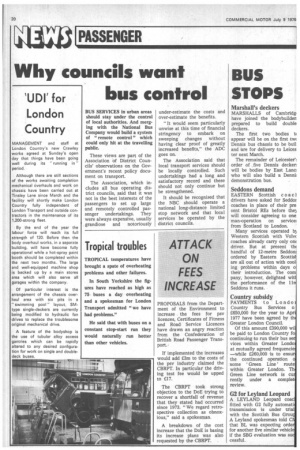 Page 22, 9th July 1976 —
Why councils want bus control
Close
BUS SERVICES in urban areas should stay under the control of local authorities. And merging with the National Bus Company would build a system of "remote control" which could only hit at the travelling public.
These views are part of the Association of District Councils' observations on the Government's recent policy document on transport.
The Association, which includes all bus operating district councils, said that it was not in the best interests of the passengers to set up large and remotely controlled passenger undertakings. They were always expensive, usually grandiose and notoriously under-estimate the costs and over-estimate the benefits.
"It would seem particularly unwise at this time of financial stringency to embark on sweeping changes without having clear proof of greatly increased benefits," the ADC goes on.
The Association said that local transport services should be locally controlled. Such undertakings had a long and satisfactory record and these should not only continue but be strengthened.
It should be recognised that the NBC should operate a national long-distance limited stop network and that local services be operated by the district councils.