BUS STOPS
9th July 1976
Page 22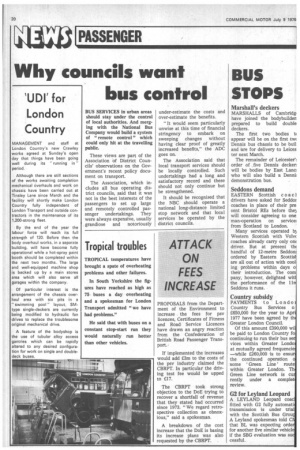 Page 22, 9th July 1976 —
BUS STOPS
Close
Marshall's deckers
MARSHALLS of Cambridg have joined the bodybuilder prepared to build double deckers.
The first two bodies ti appear will be on the first tw( Dennis bus chassis to be buil and are for delivery to Leices ter next March.
The remainder of Leicester': order of five Dennis decker will be bodies by East Lano who will also build a Denni: demonstration bus.
Seddons demand
EASTERN Scottish c oacl drivers have asked for Seddor coaches in place of their pre sent Bristol REs before the3 will consider agreeing to one man-operation on service! from Scotland to London.
Many services operated b3 Western Scottish with Volv< coaches already carry only om driver. But at present thf handful of 12-metre Seddon: ordered by Eastern Scottisl are all out of action with cool ing problems within days o their introduction. The corn pany, however, delighted wit the performance of the 1ln Seddons it runs.
Country subsidy
PAYMENTS to I Londor Country Bus Services o £650,000 for the year to Apri 1977 have been agreed by thq Greater London Council.
Of this amount £390,000 wil be paid to London Country fo continuing to run their bus ser vices within Greater Londoi at mutually agreed frequencie —while £260,000 is to ensur the continued operation some Green Line' route within Greater London. Th Green Line network is cur rently under a complet, review.
G2 for Leyland Leopard
A LEYLAND Leopard coacl fitted with G2 fully automatil transmission is under trial with the Scottish Bus Grou A Leyland spokesman told CI that BL was expecting order for another five similar vehicle if the SBG evaluation was suc cessful.