Tractors in the Limelight at thc Smithfield Show
9th December 1938
Page 52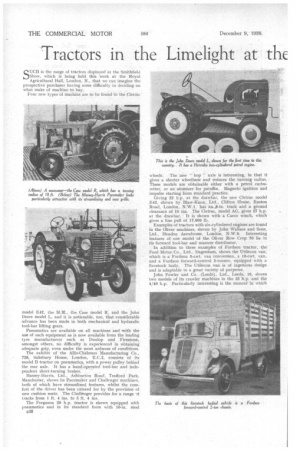 Page 53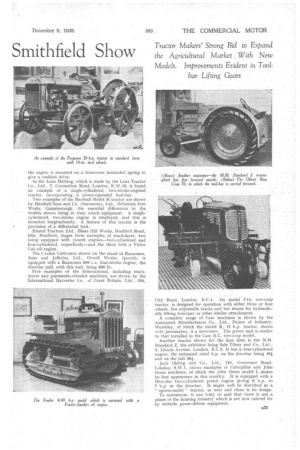 Page 52, 9th December 1938 —
Tractors in the Limelight at thc Smithfield Show
Close
Tractor Makers' Strong Bid to Expand the AgricuAtural Market With New Models. Improvements Evident in Toolbar Lifting Gears
SUCH is the range of tractors displayed at the Smithfield Show, which is being held this week at the Royal Agricultural Hall, London, N. that we can imagine the prospective purchaser :haying some difficulty in deciding on what make of machine to buy.
Four new types of machine are to be found in the Cletrac model E42, the MM. , the Case model R, and the John Deere model L, and it is noticeable, too, that considerable advance has been made in both mechanical and hydraulic tool-bar lifting gears.
Pneumatics are available on all machines and with the use of such equipment as is now available from the leading tyre manufacturers such. as Dunlop and Firestone, amongst others, no difficulty is experienced in obtaining adequate grip, even under the most arduous of conditions.
The exhibit of the Allis-Chalmers Manufacturing Co., 728, Salisbury House, London, E.C.2, consists of its model B tractor on pneumatics, with a power pulley behind the rear axle. It has a hand-operated tool-bar and independent short-turning brakes.' ..
Massey-Harris, Ltd., Ashburton Road, Trafford Park, Manchester, shows its Pacemaker and Challenger machines, both of which have streamlined features, whilst the comfort of the driver has been catered for by the provision of new cushion seats. The Challenger provides for a range -if tracks from 1 ft. 4 ins. to 5 ft. 4 ins.
The Ferguson 20 h.p. tractor is shown equipped with pneumatics and in its standard form with 10-in. Steel n88 .
wheels. The new " hop " axle is interesting, in that it gives a shorter wheelbase and reduces the turning radius. These models are obtainable either with a petrol carburetter, or an atomizer, for paraffin. Magneto ignition and impulse starting fortin standard practice. Giving 22 h.p. at the drawbar, the new Cletrac model E42, shown by Blaw-Knox, Ltd., Clifton House, Euston Road, London, NW.!, has an.-in. track and a ground clearance of 15 ins. The Cletrac, model AG, gives 27 h.p. at the drawbar. It is shown with a Carco winch, which gives a line pull of 17,000 lb.
Examples of tractors with six-cylindered engines are found in the Oliver machines, shown by John Wallace and Sons, Ltd., Hendon Aerodrome, London, N.W.9. Interesting features of .one model of the• Oliver Row Crop 70 lie in its forward tool-bar and manure distributor.
In addition to three examples of Fordson tractor, the Ford Motor.Co., Ltd., Dagenham, shows the Utilecon van, which is a Fordson 5-cwt. van conversion, a 10-cwt. van, and a Fordson forward-control 2-tonner, equipped with a livestock body. The Utilecon van is of ingenious design and is adaptable to a great variety of purposes.
John Fowler and Co. (Leeds), Ltd., Leeds,10, shows two models of its crawler' machines in the 25 h.p. and the 4/40 h.p. Particularly interesting is the manner in which
the engine is mounted on a transverse laminated spring to give a cushion drive.
In the Lanz Bulldog, which is made by the Lanz Tractor Co:, Ltd., 7, Coronation Road, London, N.W.10, is found an example of a single-cylindered, two-stroke-engined tractor, incorporating a power-operated tool-bar.
Two examples of the Marshall Model M tractor are shown by Marshall Sons and Co. (Sucessors), Ltd., Britannia Iron Works, Gainsborough, the essential differences in the models shown being in their winch equipment. A singlecylindered, two-stroke engine is employed, and this is mounted longitudinally. A feature of this tractor -is the provision of a differential lock,
Bristol Tractors, Ltd., Blake Hill Works, Bradford Road, Idle, Bradford, stages three examples of track-layer, two being equipped with jowett engines—two-cylindered and four-cylindered, respectively—and the third with a Victor Cub oil engine.
The Carden Cultivator shown on the stand of Ransomes, Sims and Jefferies, Ltd., Orwell Works, Ipswich, is equipped with a Ransomes 000 c.c. four-stroke engine, the drawbar pull, with this unit, being 600 lb.
Five examples of the International, including tracklayers and pneumatic-wheeled machines, are shown by the International Harvester Co., of Great Britain. Ltd., 259, City Road, London, E.C.1. Its model F14, row-crop tractor, is designed for operation with either three or four wheels, has adjustable tracks and has means for hydraulically lifting tool-bars or other similar attachments, A complete range of Case machines is shown by the Associated Manufacturers Co., Ltd., Palace of Industry, Wembley, of which the model R, 12 h.p. tractor, shown with pneumatics, is a newcomer. The power unit is similar to that installed in the Case R.C. row-crop model, Another tractor shown for the first time is the M.M. Standard Z, the exhibitor being Sale Tilney and Co., Ltd., 3, Lloyds Avenue, London, E.C.3. I-Chas a four-cylindered engine, the estimated rated h.p. on the drawbar being 164 and on the belt 264.
jack Olding and Co., Ltd., 101, Grosvenor Road, London, S.W.1, shows examples of Caterpillar and John Deere machines, of which the John Deere modelL makes its first appearance in this country. It is equipped with a Hercules two-cylindered petrol engine giving 6. h.p. to 7 h.p. at the drawbar. It might well be described as a "
sports-model" tractor, so neat and clean is its design. To summarize, it can truly be said that there is not a Phase of the farming industry which is not now catered for by suitable power-driven equipment.