MANCHESTER AND FARES CONCESSIONS
9th December 1938
Page 49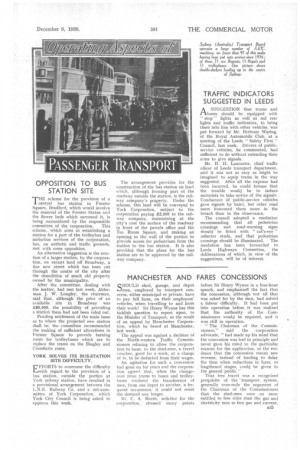 Page 49, 9th December 1938 —
MANCHESTER AND FARES CONCESSIONS
Close
SHOULD shed, garage, and depot Omen, employed by transport concerns, either municipal or private, have to pay full fares, on their employers' vehicles, when travelling to and from their work? Sir Henry Wynne has this ticklish question to report upon, to the Minister of Transport, as the result of an appeal by Manchester Corporation, which he heard at Manchester, last week.
The appeal was against a decision of the North-western Traffic Commissioners refusing to allow the corporation to issue, to the shed-men, a travel voucher, good for a week, at a charge of is. to be deducted from their wages.
An agitation for such a concession had gone on for years and the corporation agreed that, when the changeover from trams to buses and trolleybuses rendered the transference of men, from one depot to another, a frequent occurrence, it could not resist the demand any longer.
Mr. C. A. Marsh, solicitor for the corporation, stressed many points before Sir Henry Wynne in a four-hour speech, and emphasize :1 the fact that the concession, although not all that was asked for by the men, had solved a labour difficulty. It had been put into operation before it was realized that the authority of the Commissioners would be required, and :t was still in operation. "
" The Chairman of the Commissioners," said the corporation advocate, "had made up his mind that the concession was bad in principle and never gave his mind to the particular reasons for the application, or the evidence that the concession meant new revenue, instead of tending to delay the time when reductions in fares, or lengthened stages, could be given to the general public."
That free travel was a recognized perquisite of the 'transport system, generally over-rode the argument of the Chairman of the Commissioners that the shed-men were no more entitled to free rides than the gas and electricity men to free gas and current.