Put Not Your Trust in Bullies
9th December 1938
Page 48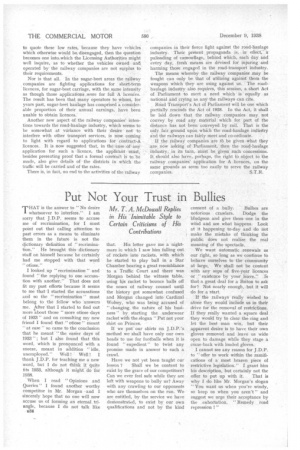 Page 48, 9th December 1938 —
Put Not Your Trust in Bullies
Close
Mr. T. A. McDowall Replies in His Inimitable Style to Certain Criticisms of His Contributions
THAT is the answer to "No desire I whatsoever to interfere." I am sorry that J.D.P. seems to accuse me of recrimination, for I must point out that calling attention to past errors as a means to eliminate them in the future is not the dictionary definition of "recrimination." He brought this dictionary stuff on himself because he certainly had me stopped with that word "otiose," I looked up " recrimination" and found 'the replying to one accusation with another." That does not fit my past efforts because it seems to me that I started the accusations and so the " recrimination " must belong to .the fellow who answers me. After that I started to find out more about those "more otiose days of 1933" and on consulting my new friend I found that " otiose " meant " at ease" so came to the conclusion that he meant " the easier days of 1933 " ; but I also found that this word, which is pronounced with a sneeze, meant in addition "idle,
unemployed . " Well Well I thank J.D.P. for teaching me a new word, but I do not think it quite fits 1933, although it might do for 1938.
When I read "Opinions and Queries" I found another worthy competitor in Mr. Morgan and I sincerely hope that no one will now accuse us of forming an eternal. triangle, because I do not talk like
that, His letter gave me a night
mare in which I saw him falling out of rockets into rackets, with which he started to play • ball in a Star Chamber bearing a great resemblance to a Traffic Court and there was Morgan behind the witness table, using his racket to bounce balls off the noses of railway. counsel 'until the history got somewhat confused and Morgan changed into Cardinal Wolsey, who was being accused of "changing the nature of his busi7 ness " by starting the underwear racket with the slogan "Put not your shirt on Princes.
If we put' our shirts on J.D.P.'s method we. shall have only our own heads to use for footballs when it is found " expedient " to twist any promise made in answer to such a crawl.
Have we not yet been taught cur lesson ? Shall we be content to exist by the grace of our competitors? Can we ever feel safe while they are left with weapons to bully us? Away with any crawling to our opponents who are themselves on the run. We are entitled, by the service we have demonstrated, to exist by our own qualifications and not by the kind consent of a bully. Bullies are notorious crawlers. Dodge the bludgeon and give them one in the wind and see what happens. Look at it happening to-day and do not make the mistake of thinking the public does not realize the real meaning of the spectacle..
We We want automatic renewals as our right, so long as we continue to behave ourselves to the community at large, We shall not be content with any sops of five-year licences or " existence by your leave." I's that a great deal for a Briton to ask for? Not nearly enough, but it will do for a start.
If the railways really -Wished to atone they would include us in their drive for the removal of restrictions. If they really wanted a square deal they would try to clear the ring and let the best man win, but their apparent desire is to have their own gloves removed and leave us wide open to damage while they stage a come -hack with loaded gloves.
I cannot see any reason for J.D.P. to "offer to work within the ramifications of a most brazen piece of restrictive legislation." I grant him his description, but certainly not the offer to put up with it. That is why I do like Mr. Morgan's slogan " You want us when you're windy, so keep us when you aren't" and suggest we urge their acceptance by the exhortation, "Remedy road repression ! "