LAE. Hears Supercharging Expert
9th December 1938
Page 44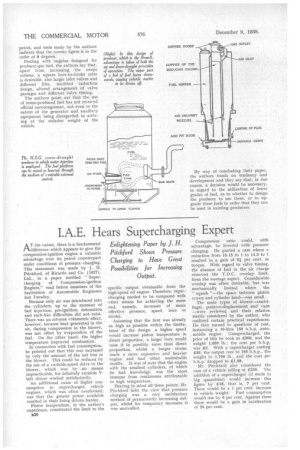 Page 44, 9th December 1938 —
LAE. Hears Supercharging Expert
Close
Enlightening Paper by J. H. Pitchford Shows Pressure Charging to Have Great Possibilities for Increasing Output.
AT the outset, there is a fundamental difference which appears to give the compression-ignition engine a valuable advantage over its petrol counterpart under conditions of pressure charging. This statement was made by J. II. Pitchford, of Ricardo and Co. (1927), Ltd., in a paper entitled " Supercharging of Compression-ignition Engines," read before members of the Institution of Automobile Engineers last Tuesday.
Because only air was introduced into the cylinders, up to the moment of fuel injection, pre-ignition, detonation and such-like difficulties did not exist. There was an adverse volumetric effect, however, because heat generated in the air, during compression in the blower, was not offset by evaporation of the fuel. On the other hand, the higher temperature improved combustion.
In connection with fuel consuription, he pointed out that this was increased by only the amount of the net loss in the blower. This could be reduced by the use of a variable-speed drive to the blower, which was by no means impracticable, for infinitely variable Vbelt drives worked satisfactorily.
An additional cause of higher consumption in supercharged vehicle engines, which was often overlooked, was that the greater power available resulted in their being driven harder.
Piston temperature, in the author's experience, constituted the limit to the fs30 specific output obtainable from the high-speed oil engine. Therefore, supercharging needed to be compared with other means for achieVing the same end, namely, increases of mean effective pressure, speed, bore or stroke.
Assuming that the first was already as high as possible within the limitations of the design, a higher speed would increase piston temperature in direct proportion, a larger bore would raise it in possibly more than direct proportion, whilst a longer stroke made a more expensive and heavier engine and had other undesirable results. It was of note that the engine with the smallest cylinders, of which he had knowledge, was the most immune from weaknesses attributable to high temperature.
Bearing in mind all these points, Mr. Pitchford held the view that pressure charging was a very satisfactory method of permanently increasing output, whilst for temporary increases it was unrivalled. Compression ratio could, with advantage, be lowered with pressure charging. He quoted a case where a reduction from 15.15 to 1 to 14.3 to 1 resulted in a gain of 6i per cent, in torque. With regard to valve timing, the absence of fuel in the air charge removed the T.D.C. overlap limit, from the wastage aspect. Considerable overlap was often desirable, but -was mechanically limited where the " squish "—the space between piston crown and cylinder head—was small.
The main types of blower--centrifugal, positive-displacement and vane —were reviewed and their relative merits considered by the author, who outlined certain practical experiences. He then turned to questions of cost, instancing a 10-litre 150 b.h.p. automobile engine. Unsupercharged, the price of this he took as £300, and the weight 1,650 lb.; the cost per b.h.p, was £2. With a supercharger costing £50, the output rose to 195 b.h.p., the weight to 1,700 lb., and the cost per b.h.p.' dropped to £1.88.
Mr. Pitchford also considered the case of a vehicle selling at £250. The addition of a supercharger (if made in big quantities) would increase this figure by £18, that is, 7 per cent. There would be a 1 per cent, increase in vehicle weight. Fuel consumption would rise by 6 per cent. Against these there would he a gain in acceleration of 20 per cent.