New Equipment, Processes and Publications
9th August 1957
Page 54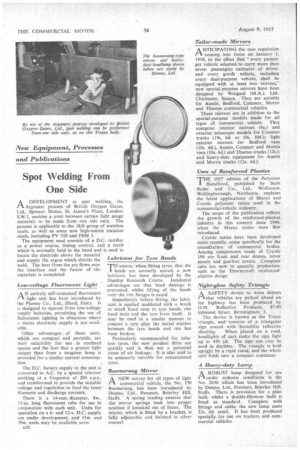 Page 54, 9th August 1957 —
New Equipment, Processes and Publications
Close
Keywords :
Recyclable Materials
,
Manufacturing
,
Glass
,
Technology
,
Rootes
,
Gas Discharge Lamps
,
Beadwork
,
Commer
,
Fluorescent Lamp
,
Mirror
,
Tire
,
Bead
Spot Welding From One Side
A DEVELOPMENT in spot welding, the /-1 Argon= process of British Oxygen Gases. Ltd., Spencer House, St. James's Place, London. S.W.1, enables a joint between certain light gauge materials to be made from one side only. The process is applicable to the 18/8 group of stainless steels, as well as some new high-tensile stainless steels, including FV 520 and FSM I.
Low-voltage Fluorescent Light AN entirely self-contained fluorescent light unit has been introduced by the Plessey Co., Ltd., Ilford, Essex. It is designed to operate from low-voltage supply batteries, permitting the use of fluorescent lighting in situations where a mains electricity supply is not available.
Other advantages. of these units. which are compact and portable, are their suitability for use in confined spaces and the fact that a greater light output than from a tungsten lamp is provided for a similar current consumption.
The D.C. battery supply to the unit is converted to A.C. by a special vibrator working at a frequency of 200 c.p.s., and transformed to provide the suitable voltage and regulation to feed the lamp filaments and discharge currents.
There is a 14-mm.-diameter, 8w.. 12-in, long fluorescent tube for use in conjunction with each unit. Units for operation on a 6and 12-v. D.C. supply are under development, and 15w. and 20w. units may be available soon Lubricant for Tyre Beads TO ensure, when fitting tyres, that the beads are correctly seated, a new lubricant has been developed by the Dunlop Research Centre. Incidental advantages are that bead damage is prevented, whilst lifting of the beads over the rim flanges is eased.
Immediately before fitting, the lubricant is applied undiluted with a brush or small hand mop to tyre beads, rim bead seats and the tyre lever itself. It may be used in a similar manner to remove a tyre after the initial stiction between the tyre beads and rim has been broken.
Particularly recommended for tubeless tyres, the new product dries out quickly and is thus not a potential cause of air leakage. It is also said to be eminently suitable for conventional tyres.
Boomerang Mirror ANEW mirror for all types of light commercial vehicle, the No. 170 Boomerang, has been introduced by Desmo, Ltd., Pensnett, Brierley Hill, Staffs. A spring loading ensures that the mirror springs back into proper position if knocked out of focus. The mirror, which is fitted by a bracket, is fully adjustable and finished in silver enamel. Tailor-made Mirrors A NTICIPATING the new regulation .1-1 coming into force on January 1. 1958, to the effect that "every passenger vehicle adapted to carry more than seven passengers exclusive of driver. and every goods vehicle, including every dual-purpose vehicle, shall be equipped with at least two mirrors," new special-purpose mirrors have been designed by Wingard (M.A.), Ltd.. Chichester, Sussex. They are suitable for Austin, Bedford, Commer, Morris and Thames commercial vehicles.
These mirrors are in addition to the special-purpose models made for all types of commercial vehicle. They comprise interior mirrors (6s.) and exterior telescopic models for Commer trucks (19s. 6d. or 19s. 10d.);• light exterior mirrors for Bedford vans (10s. 4d.), Austin, Commer and Morris vans (10s. 6d.) and Thames trucks (12s.); and heavy-duty equipment for Austin and Morris trucks (12s. 6d.).
Uses of Reinforced Plastics THE 1957 edition of the Polyester Handbook, published by Scott Bader and Co., Ltd., Wollaston. Wellingborough, Northants, explains the latest applications of Marco and Crystic polyester resins used in the commercial-vehicle industry.
The scope of the publication reflects the growth of the reinforced-plastics industry in this country since 1946, when the Marco resins were first introduced.
Crystic resins have been developed more recently, some specifically for the manufacture of commercial bodies. Among components made of Crystic 196 are front and rear domes, 'cover panels and gearbox covers. Complete cabs are now in quantity production. such as the Thornycroft reinforcedplastics design.
Night-glow Safety Triangle A SAFETY device to warn drivers PA that vehicles are parked ahead on the highway has been produced by D.M. Reflective Products, 87-89 Edmund Street, Birmingham, 3.
The device is known as the Tricey triangle, andconsists of a triangular sign coated with Scotchlite reflective sheeting. When placed on a road, headlights of cars make the sign light up at 450 yd. The sign can also be used in daytime. The triangle is held upright by a rigid stand, and the whole unit folds into a compact container.
A Heavy-duty Lamp AROBUST lamp designed for use under arduous conditions is the No. 2030 which has been introduced by Desmo, Ltd., Pensnett, Brierley Hill. Staffs. There is provision for a pilot bulb, whilst a double-filament bulb is fitted as standard. Complete with fittings and cable, the new lamp costs 32s. 6d. retail. It has been produced specially for use on tractors and commercial vehicles.