Tribunal Faults Shown Up by Bus Strike
9th August 1957
Page 39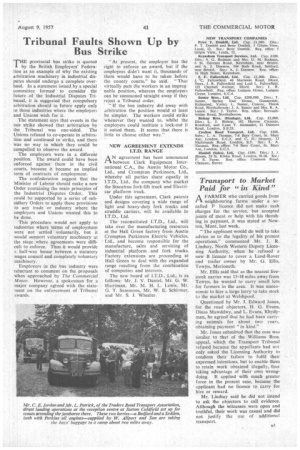 Page 39, 9th August 1957 —
Tribunal Faults Shown Up by Bus Strike
Close
T"provincial bus strike is quoted by the British Employers' Federation as an example of why the existing arbitration machinery in industrial disputes should undergo a complete overhaul. In a statement issued by a special committee formed to consider the future of the Industrial Disputes Tribunal, it is suggested that compulsory arbitration should in future apply only to those industries where the employers and Unions wish for it.
The statement says that events in the bus strike showed that arbitration by the Tribunal was one-sided. The Unions refused to co-operate in arbitration and continued to strike, and there was no way in which they could be compelled to observe the award.
The employers were in a different position. The award could have been enforced against them in the civil courts, because it became an implied term of contracts of employment.
The confederation suggest that the Minister of Labour should make a new Order containing the main principles of the Industrial Disputes Order. This could be supported by a series of subsidiary Orders to apply these provisions to any trade or industry where the employers and Unions wanted this to be .done.
This procedure would not apply to industries where terms of employment were not settled voluntarily, but it would support voluntary machinery at the stage where agreements were difficult to enforce. Thus it would provide a half-way house between a statutory wages council and completely voluntary machinery.
Employers in the bus industry were reluctant to comment on the proposals when approached by The Commercial Motor. However, a spokesman for a major company agreed with the statement on the enforcement of Tribunal awards.
" At present, the employer has the right to enforce an award, but if the employees didn't want it, thousands of them would have to be taken before the county courts," he said. 'That virtually puts the workers in an impreg[table position, whereas the employers can be summoned straight away if they reject a Tribunal order.
"If the bus industry did away with arbitration the position would at leasi be simpler. The workers could strike whenever they wanted to, whilst the employers could institute a lock-out it it suited them. -It seems that there is little to choose either way."