Light-alloy Body for Bread Van
9th August 1957
Page 38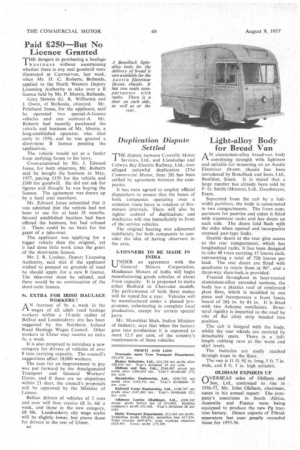 Page 38, 9th August 1957 —
Light-alloy Body for Bread Van
Close
AN aluminium-alloy bread-van body combining strength with lightness and suitable for mounting on an Austin Electricar 10-cwt. chassis has been introduced by Bonallack and Sons, Ltd., Basildon, Essex. It is stated that a large number has already been sold by F. G. Smith (Motors), Ltd.. Goodmayes, Essex.
Separated from the cab by a fullwidth partition, the body is constructed in two compartments. The front compartment for pastries and cakes is fitted with transverse racks and has doors on each side. The doors fold flush with the sides when opened and incorporate recessed pan-type locks.
Double doors at the rear give access to the rear compartment, which has longitudinal racks. It has been designed to take 48 trays carrying 15 loaves each, representing a total of 720 loaves per load. The rear doors are fitted with quadrants to retain them at 90°, and a three-way slam-lock-is provided.
Framed throughout in heat-treated aluminium-alloy extruded sections, the body has a plastics roof of reinforced glass fibre, which is moulded in one piece and incorporates a front fascia board of 26f in. by 8+ in. It is fitted with two Ashanto ventilators. Structural rigidity is imparted to the roof by ribs of flat alloy strip bonded into position.
The cab is integral with the body, whilst the rear wheels are covered by detachable spats. There is a fulllength rubbing rave at the waist and skirt levels.
The batteries are easily reached through traps in the floor.
The van is 11 ft. 91 in. long, 5 ft. 7 in. wide, and 8 ft. 1 in. high unladen.