Rail Too Dear for Carriage of Lambs
9th August 1957
Page 37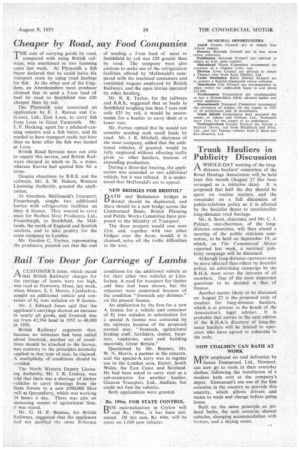 Page 37, 9th August 1957 —
Rail Too Dear for Carriage of Lambs
Close
ACUSTOMER'S letter, which stated that British Railways' charges for the carriage of lambs were too high, . was read at Newtown, Mont, last week, when Messrs. S. J. Morris, Llanfechan, sought an additional vehicle and container of 61 tons unladen on B licence.
Mr. J. Edward Jones said that the applicant's carryings showed an increase in nearly all goods, and livestock was up from 42,564 head in 1955 to-48,000 in 1956.
British Railways' argument that, because no witnesses had been called about livestock, another set of conditions should be attached to the licence, was contrary to the principles normally applied in that type of case, he claimed. A multiplicity of conditions should be avoided.
The North Western Deputy Licensing Authority, Mr. J. R. Lindsay, was told that there was a shortage of timber vehicles to carry thinnings from the State forests to a new £500,000 fibre mill at Qucensferry, which was working 24 hours a day. There was also an increasing output of agricultural lime, it was stated,
Mr. G. H. P. Beames, for British Railways, suggested that the applicants had not justified the same B-licence conditions for the additional vehicle as for their other two vehicles at Llanfechan. A need for transport for timber and lime had been shown, but the objectors were concerned because of the condition "livestock any distance" on the present licence.
An application by the firm for a new A licence for a vehicle and container of 81 tons unladen in substitution for a special A licence was contested by the railways because of the proposed normal user, "livestock, agricultural feeding stuff, fertilizers, timber, furniture, roadstone, steel and building materials, Great Britain."
Questioned by Mr. Beames, Mr, W. N. Morris, a partner in the concern, said the special-A lorry was in regular use to the London area, Exeter, South Wales, the East Coast and Scotland. He had been asked to carry steel as a sub-contractor for another haulier, Gleaves Transport, Ltd., Audlem, but could not find the vehicles.
Both applications were granted.
Rs. 199m. FOR STATE CONTROL
BUS nationalization in Ceylon will cost Rs. 199m., it has been estimated. Of this sum, Rs. 64m. will be Spent on 1.600 new vehicles.