Cheaper by Road, say Food Companies
9th August 1957
Page 37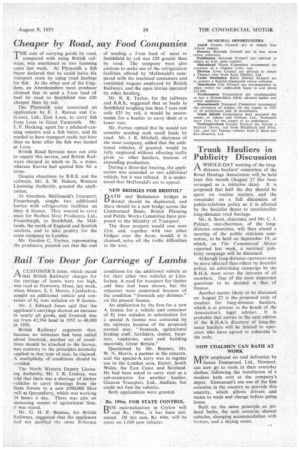 Page 37, 9th August 1957 —
Cheaper by Road, say Food Companies
Close
THE cost of carrying goods by road, compared with using British railways, was mentioned in two licensing cases last week. At Plymouth a fish buyer declared that he could halve his transport costs by using road haulage for fish. At the other end of the kingdom, an Aberdeenshire meat producer claimed that to send a 5-ton load of beef by road to Smithfield was £20 cheaper than by rail.
The Plymouth case concerned an application by F. J. Reeves and Co. (Looe), Ltd., East Loge, to carry fish from Looe to Great Yarmouth, Mr. J. F. Hocking, agent for a pilchard-canning concern and a fish buyer, said he needed to have transport ready not later than an hour after the fish was landed at Looe.
British Road Services were not able to supply this service, and British Railways charged as Much as 2s. a stone, whereas Reeves had quoted him 9d. a stone.
Despite objections by B.R.S. and the railways. Mr. S. W. Nelson, Western Licensing Authority, granted the application.
At Aberdeen, McDonald's Transport, Fraserburgh, sought two additional lorries with refrigeration facilities on their A licence. They wanted to carry meat for Buchan Meat Producers, Ltd., Fraserburgh, to Smithfield, the Midlands, the north of England and Scottish markets, and to take poultry for the same company to London.
. Mr. Gordon C. Forbes, representing the producers, pointed out that the cost of sending a 5-ton load of meat to Smithfield by tail was £20 greater than by road. The company were also anxious to make use of the refrigeration facilities offered by McDonald's compared with the insulated containers and rentilated wagons employed by British Railways, and the open lorries operated by other haulier.
Mr. R. R. Taylor, for the railways and B.R.S., suggested that as loads to Smithfield weighing less than 5 tons cog only £35 by rail, it would be uneconomic for a haulier to carry them at a lower rate.
Mr. Forbes replied that he would not consider sending such small loads by road. Mr. J. R. Mitchell, chairman of the meat company, added that the additional vehicles, if granted, would be fully employed Without affecting traffic given to other hauliers, because of expanding production.
During a three-day hearing, the application was amended to one additional vehicle, but it was refused. It is understood that McDonald's are to appeal.
NEW BRIDGES FOR BRISTOL?
BATH and Bedminster bridges in Bristol should be duplicated, and there should be a new bridge across the Cumberland Basin, Bristol Planning and Public Works Committee have proposed to the Ministry of Transport.
The three projects would cost over £2rn. and, together with two other bridges over the Avon, would, it is claimed, solve all the traffic difficulties in the area.