Wage Awards Set Fare Snowball Rolling Services Being Cut
9th August 1957
Page 36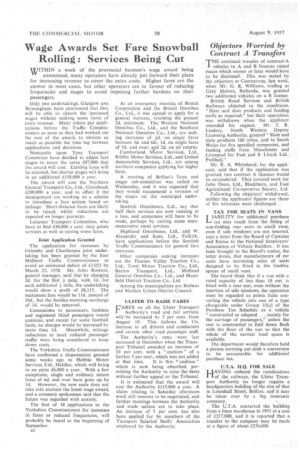 Page 36, 9th August 1957 —
Wage Awards Set Fare Snowball Rolling Services Being Cut
Close
WITHIN a week of the provincial busmen's wage award being
announced, many Operators have already put forward their plans for increasing revenue to cover the extra costs. Higher fares are the answer in most cases, but other operators are in favour of reducing frequencies and stages to avoid imposing further burdens on their passengers.
Only two undertakings, Glasgow and Birmingham, have announced that they will be able to absorb the increased wages without seeking some form of extra revenue. Many others put applications before the Traffic Commissioners as soon as they had worked out the cost of the award, to obviate as much as possible the time lag between applications and decisions.
Newcastle upon Tyne Transport Committee have decided to adjust fare stages to cover the extra £97,000 that the award will cost. Existing fares will be retained, but shorter stages will bring in an additional £110,000 a year
The award will cost the Northern General.Transport Co., Ltd., Gateshead, £200,000 a year, and to offset it the management are working on a scheme to introduce a fare system based on mileage. Short-distance fares are likely to be raised, whilst reductions are expected on longer journeys.
Leicester Transport Committee, who have to find £30,000 a year, may prune services as well as raising some fares.
Joint Application Granted
The application for increases by Grimsby and Cleethorpes joint undertaking has been granted by the East Midland Traffic Commissioners to avoid an estimated deficit of £3,923 by March 23, 1958. Mr. John Rostron, general manager, said that by charging 2d. for the first mile, with Id. for each additional 1 mile, the undertaking would show a profit of £8,115. The maximum fare would be 11d, instead of 10d., but the Sunday-morning surcharge of id. would be removed.
Concessions to pensioners, limbless and registered blind passengers would continue, and except for some football fares, no charges would be increased by more than Id. Meanwhile, mileage reductions to meet reduced passenger traffic were being considered to keep down costs.
The Yorkshire Traffic Commissioners have confirmed a dispensation granted some weeks ago to Hebble Motor Services, Ltd., Halifax, which will bring in an extra £6,000 a year. With a few exceptions, single and ordinary return fares of 6d. and over have gone up by Id. However, the new 'scale does not take into account the latest wage award, and a company spokesman said that the future was regarded with anxiety.
The first of 18 applications to the Yorkshire Commissioners for increases in fares or reduced frequencies, will probably be heard at the beginning of September, n2
At an emergency meeting of Bristol Corporation and the Bristol Omnibus Co., Ltd., it was agreed to apply for a general increase, retaining the present 2d. minimum. The Western National Omnibus Co., Ltd., and the Southern National Omnibus Co., Ltd., are seeking increases of id. on single fares between 3d. and 6d.; id. on single fares of 7d. and over; and 2d. on all returns. Cumberland Airotor Services, Ltd., Ribble Motor Services, Ltd., and United Automobile Services, Ltd., are among northern companies applying for higher fares.
A meeting of Belfast's fares and stages sub-committee was called on 'Wednesday, and it was expected that they would recommend a revision of the stages on the municipal undertaking.
Scottish Omnibuses, Ltd., say that half their services are now running at a loss, and economies will have to be made, perhaps by cutting some unremunerative rural services.
Highland Omnibuses, Ltd., and W. Alexander and Sons, Ltd., Falkirk, have applications before the Scottish Traffic Commissioners for general fare increases.
Other companies seeking increases are the Thames Valley Traction Co., Ltd., Trent Motor Traction Co., Ltd., Barton Transport, Ltd., Midland General Omnibus Co., Ltd., and Mansfield District Traction Co., Ltd.
Among the municipalities are Bedwas and Machen Urban District Council.