TAX FOR SEATS IN VANS
9th August 1957
Page 36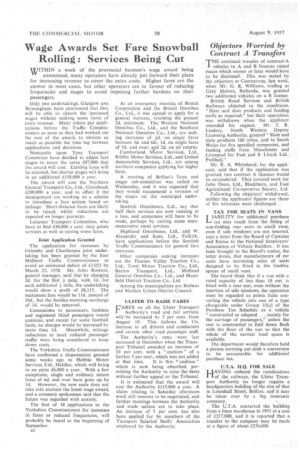 Page 36, 9th August 1957 —
TAX FOR SEATS IN VANS
Close
L'ILITY for additional purchase tax may result from the fitting of non-folding rear seats in small vans, even if side windows are not inserted, says a letter from the Board of Customs and Excise to they National Employers' Association of Vehicle Builders. It has been brought to the Board's notice, the letter states, that manufacturers of car seats have increasing sales of seats designed to be fitted in the loading spaces of small vans.
The board think that if a van with a rated capacity of less than 10 cwt. is fitted with a rear seat, even without the insertion of side windows, the operation must be regarded as prima facie converting the vehicle into one of a type chargeable under Group 35(a) of the Purchase Tax Schedule as a vehicle "constructed or adapted. . . mainly for the carriage of passengers," unless the seat is constructed to fold down flush with the floor of the van so that the whole of the normal load space is available.
The department would therefore hold a person carrying out such a conversion to be accountable for additional purchase tax.