Mr. Quin Warns Big Bus Companies
9th August 1957
Page 34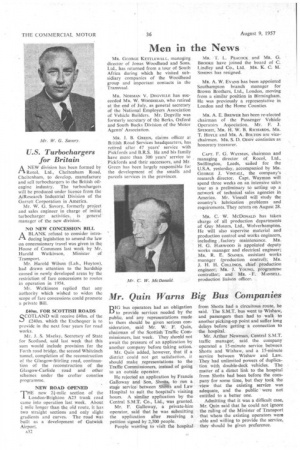 Page 34, 9th August 1957 —
Mr. Quin Warns Big Bus Companies
Close
BIG bus operators had an obligation to provide services needed by the public, and any representations made to them should be given serious consideration, said Mr. W. F. Quin, chairman of the Scottish Traffic Commissioners, last week. They should not await the pressure of an application by another company before taking action.
Mr. Quin added, however, that if a district could not get satisfaction, it should make representations to the Traffic Commissioners, instead of going to an outside operator.
He rejected an application by Francis Galloway and Son, Shotts, to run a stage service between Salts and Law Hospital to suit the hospital's visiting hours. A similar application by the Central S.M.T. Co., Ltd., was granted.
Mr. F. Galloway, a private-hire operator, said that he was submitting the application after receiving a petition signed by 2,500 people.
People wanting to visit the hospital from Shotts had a circuitous route, he said. The S.M.T. bus went to Wishaw, and passengers then had to walk to another picking-up point and suffer long delays before getting a connection to the hospital.
Mr. Arthur Newman, Central S.M.T. traffic manager, said the company operated a 15-minute service between Shotts and Wishaw, and a 15-minute service between Wishaw and Law. They had unlimited powers of duplication with double-deck vehicles. The matter of a direct link to the hospital from Shotts had been before the company for some time, but they took the view that the existing service was adequate, and the public were not entitled to a better one.
Admitting that it was a difficult case, Mr. Quin said that he could not ignore the ruling of the Minister of Transport that where the existing operators were able and willing to provide the service, they should be given preference.