New Blown Engine Raises Power and Saves Fuel
9th August 1957
Page 32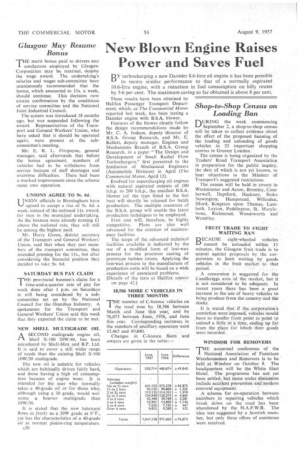 Page 32, 9th August 1957 —
New Blown Engine Raises Power and Saves Fuel
Close
RY turbochargieg a new Daimler 8.6-litre oil engine it has been possible to secure similar performance to that of a normally aspirated 10.6-litre engine, with a reduction in fuel consumption on hilly routes by 5-6 per cent. The maximum saving so far Obtained is about 8 per cent.
These results have been obtained by Halifax Passenger Transport Department, which, as The Commercial Motor reported last week, has been testing a Daimler engine with B.S.A. blower.
Features of the blower, closely follow the design recommendations made by Mr. C. A. Judson, deputy 'director of B.S.A. Group Research, and Mr, E. Kellett, deputy manager, Engines and Mechanisms Branch of B.S.A. Group Research, in a paper " The Design and Development of Small Radial Flow Turbochargers," first presented to the Institution of Mechanical Engineers (Automobile Division) in April (The Commercial Motor, April 12).
Evolved for supercharging oil engines with natural aspirated outputs of 100 b.h.p. to 200 b.h.p., the smallest B.S.A. blower (of the type fitted to the test bus) will shortly be released for batch production. The multiple resources of the B.S.A. group will enable the latest production techniques to be employed.
First cost will, therefore, be highly competitive. Plans are also well advanced for the creation of maintenance facilities.
The scope of the advanced technical facilities available is indicated by the use of a modified form of lost-wax process for the precision casting of prototype turbine rotors. Applying the lost-wax process to the manufacture of production units will be based on a wide experience of associated problems.
[Details of the tests at Halifax appear on page 42.]