Is Radar a Trap?
9th August 1957
Page 29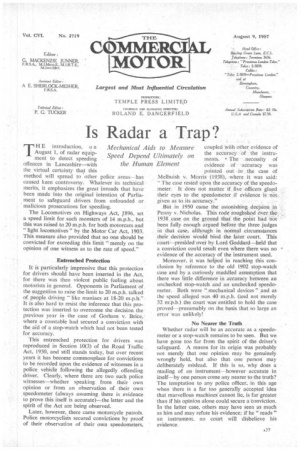 Page 29, 9th August 1957 —
Is Radar a Trap?
Close
offences HE introduction, on August 1, of radar equipment to detect speeding in Lancashire—with virtual certainty that this method will spread to other police areas—has caused keen controversy. Whatever its technical merits, it emphasizes the great inroads that have been made into the original intention of Parliament to safeguard drivers from unfounded or malicious prosecutions for speeding.
The Locomotives on Highways Act, 896, set a speed limit for such monsters of 14 m.p.h., but this was raised to 20 m.p.h. for both motorcars and "light locomotives" by the Motor Car Act, 1903. This measure also provided that no one should be convicted for exceeding this limit "merely on the opinion of one witness as to the rate of speed."
Entrenched Protection It is particularly impressive that this protection for drivers should have been inserted in the Act, for there was then violent public feeling about motorists in general. Opponents in Parliament of the suggestion to raise the limit to 20 m.p.h. talked of people driving "like maniacs at 18-20 m.p.h.. It is also hard to resist the inference that this protection was inserted to overcome the decision the previous year in the case of Gorham v. Brice,: where a constable had secured a conviction with the aid of a stop-watch which had not been tested for accuracy.
This entrenched protection for drivers was reproduced in Section 10(3) of the Road Traffic Act, 1930, and still stands today, but over recent years it has become commonplace for convictions to be recorded upon the evidence of witnesses in a police vehicle following the allegedly offending driver. Clearly, where there are two such police witnesses—whether speaking. from their own opinion or from an observation of their own speedometer (always assuming there is evidence to prove this itself is accurate)—the letter and the spirit of the Act are being observed.
Later, however, there came motorcycle patrols. Police motorcyclists secured convictions by proof of their observation of their own speedometers, coupled with other evidence of the accuracy Of the instru ments. The necessity of evidence of -accuracy was pointed Out in the case of Melhuish v. Morris (1938), .where it was said: "The case rested Upon the accuracy of the speedometer. It does not matter if. five officers glued their eyes to the speedometer if evidence is not given as to its accuracy."
But in 1950 came the astonishing decision in Penny v. Nicholas. This rode roughshod Over the 1938 _case on the ground that the point had not been fully, enough argued before the three judges in that case, althOugh in normal circumstances their decision Would bind thelater court. This court—presided over by Lord Goddard—held that a conviction could result even where there was no evidence of the accuracy of the instrument used.
Moreover, it was helped in reaching this conclusion by reference to the old 1902 stop-watch case and by a curiously muddled assumption that there was little difference in accuracy between an unchecked stop-watch and an unchecked speedometer. Both were "mechanical devices" and as the speed alleged was 40 m.p.h. (and not merely 32 m.p.h.) the court was entitled to hold the case proved presumably on the basis that so large an error was unlikely!
No Nearer the Truth Whether radar will be as accurate as a speedometer or a stop-watch remains to be seen. But we have gone too far from the spirit of the driver's safeguard. A reason for its origin was probably not merely that one opinion may be genuinely wrongly held, but also that one person may deliberately mislead. If this is so, why does a reading of an instrument—however accurate in itself—by one person come any nearer to the truth? The temptation to any police officer, in this age when there is a far too generally accepted idea that marvellous machines-cannot lie, is far greater than if his opinion alone could secure a Conviction. In the latter case, others may have seen as much as him and may refute his evidence; if he" reads" an instrument. no court will disbelieve his evidence.