301 Years of Transport —A Ha. 's Wharf Saga
9th April 1948
Page 54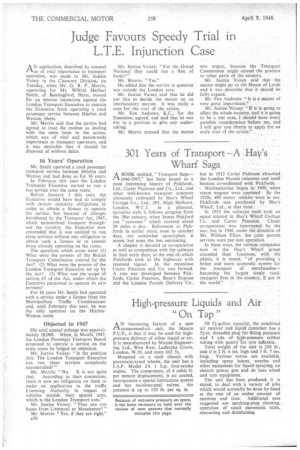 Page 54, 9th April 1948 —
301 Years of Transport —A Ha. 's Wharf Saga
Close
ABOOK entitled, "Transport Saga1646-1947," has been issued as a most interesting history of Pickfords, Ltd., Carter Paterson and Co., Ltd., and other well-known transport concerns ultimately embraced by Hay's Wharf Cartage Co., Ltd., 205, High Holborn, London, W.C.1. In a pleasant, narrative style it follows progress from the 18th century, when James Pickford ran "caravans" which covered about 20 miles a day. References to Pickfords in earlier years, even to cavalier days, are somewhat apocryphal, it seerris, but none the less entrancing.
A chapter is devoted to co-operation as well as competition with the railways in their early days, at the end of..which Pickfords took to the highways with renewed vigour. In the meantime Carter Paterson and Co. was formed. A rate war developed between Pickfords, Carter Paterson, Bean's Express and the London Parcels Delivery Co., but in 1912 Carter Paterson absorbed the Londcin Parcels concerns and itself became co-ordinated with Pickfords.
Mechanization began 1n 1905, when steam wagons were operated By the 1920s, 400 motor vehicles were in use. Pickfords was purchased by Hay's Wharf, Ltd., at that time.•
In 1933 the railways each took an equal interest in Hay's Wharf Cartage Co. and Carter Paterson. Closer co-operation was interrupted by the war, but in 1946, under the direction of Mr. William Elliot, the joint parcels services were put into operation.
In these ways, the various companies now in the Hay's Wharf group extended their functions, with the object, it is stated, "of providing better and more economic system for the transport of Merchandise— becoming the largest single roadtransport firm in the country, if not in the world."