Extended
9th April 1948
Page 48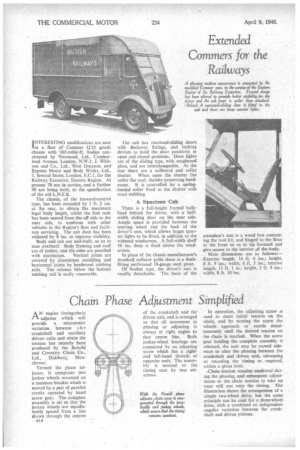 Page 48, 9th April 1948 —
Extended
Close
Commers for the
Railways
I NTERESTING modifications am seen
in a fleet of Commer Q.25 goods chassis with 365-cubic-ft bodies constructed by Normand, Ltd., Cumberland Avenue, London, N.W.1; J. Whitson and Co., Ltd., West Drayton; and Express Motor and Body Works, Ltd., 7, Seward Street, London, E.C.1, for the Railway Executive, Eastern Region. At present 70 are in service, and a further 90 are being built, to the specification of the old L.N.E.R.
The chassis, of the forward-control type, has been extended by 1 ft. 2 ins_ at the rear, to obtain the maximum legal body length, whilst the fuel tank has been moved from the off side to the near side, to conform with other vehicles in the Region's fleet and facilitate servicing. The cab dash has been widened by 8 ins, to improve visibility.
Body and cab are unit-built, so as to ease overhaul. Body framing and roof are of timber, and the sides are panelled with aluminium. Vertical joints are covered by aluminium moulding and horizontal joints by hardwood rubbing rails. The valance below the bottom rubbing rail is easily removable.
The cab has rearward-sliding doors with Beclawat fittings, and locking devices to hold the door positively in open and closed positions. Door lights are of the sliding type, with toughened glass, and are interchangeable. At the rear there are a tailboard and roller shutter. When open the shutter lies under the roof, thereby preserving headroom. It is controlled by a springloaded roller fixed to the shutter with stout webbing.
A Spacious Cab
There is a full-height framed bulkhead behind the driver, with a halfwidth sliding door on the near side. Ample space is provided between the steering wheel and the back of the driver's seat, which allows larger quarter lights to be fitted, in addition to the widened windscreen. A full-width shelf 10 ins, deep is fixed above the windscreen.
In place of the chassis manufacturer's standard radiator grille there is a flushfitting perforated 18-gauge steel plate.
Of bucket type, the driver's seat is readily detachable. The basis of the attendant's seat is a wood box containing the tool kit, and hinged to the floor at the front so as to tip forward and give access to the interior of the body.
Main dimensions are as follows:— Exterior length, 16 ft.. 6 ins.; height, 8 ft. 9 ins.; width, 6 ft. 5 ins.; interior length, II ft. 1 in.; height, 3 ft. 9 ins.; width, 8 ft. 10 ins.