OPINIONS and
9th April 1948
Page 47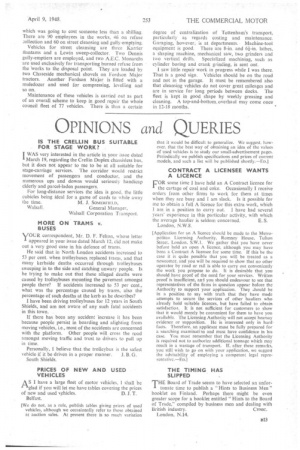 Page 47, 9th April 1948 —
OPINIONS and
Close
UERIES
IS THE CRELLIN BUS SUITABLE FOR STAGE WORK? .
I WAS very interested in the article in your issue dated March 19, regarding the Crellin Duplex chassisless bus, but it does not appear to me to be at all suitablefor stage-carriage services. The corridor would restrict movement of passengers and conductor, and the numerous ups and downs would seriously handicap elderly and parcel-laden passengers.
For long-distance services the idea is good, the little cubicles being ideal for a game of cards to while away
the time. M. J. SOMERFIELD,
Walsall. General Manager, Walsall Corporation Transport.
MORE ON TRAMS v. BUSES
\/\TOUR correspondent, Mr. D. F. Felton, whose letter OUR in your issue dated March 12, did not make out a very good case in his defence of trams.
He said that in North London accidents increased to 53 per cent, when trolleybuses. replaced trains, and that many kerbside deaths occurred through trolleybuses sweeping in to the side and catching unwary people. Is he trying to make out that these alleged deaths were caused by trolleybuses mounting the pavement amongst people there? If accidents increased to 53 per cent., what was the percentage caused by trams, also the percentage of such deaths at the kerb as he describes?
I have been driving trolleybuses for 12 years in South Shields, and am not aware of any such fatal accidents in this town.
If there has been any accident increase it has been because people persist in boarding and alighting from moving vehicles, i.e., most of the accidents are concerned with the platform. Other people will cross the wad amongst moving traffic and trust to drivers to pull up in time.
Personally, I believe that. the trolleybus is the safest vehicle if it be driven in a proper manner. J. B. G. South Shields, PRICES OF NEW AND USED VEHICLES
A S I have a large fleet of motor vehicles, I shall be F-1kglad if you will let me have tables covering the prices
of new and used vehicles. D. J. T. Belfast.
[We do not, as a rule, publish tables giving prices of used vehicles, although we occasionally refer to those obtained at auction sales. At present there is so much variation that it would be difficult to generalize. We suggest, however, that the best way of obtaining an idea of the values of used vehicles is to study our small-advertisement paves. Periodically we publish specifications and prices of current models, and such a list will be published shortly.—ED.]
CONTRACT A LICENSEE WANTS A LICENCE
FOR some time I have held an A Contract licence for the cartage of coal and coke. Occasionally I receive orders from other firms to work for them at times when they are busy and I am slack. Is it possible for me to obtain a full A licence for this extra work, which I am in a position to carry out. I have had several years' experience in this particular activity, with which the average haulier is seldom concerned. E. S. London, N.W.8.
[Application for an A licence should be made to the Metropolitan Licensing Authority, Romney House, Tufton Street, London, S.W.1. We gather that you have never before held an open A licence, although you may have been a Contract A licensee for some time. If this be the case it is quite possible that you will be treated as a newcomer, and you will be required to show that no other operator by road or rail is able to carry out conveniently the work you propose to do. It is desirable that you should have proof of the need for your services, Written proof is insufficient, ani you should endeavour to sec that representatives of the firms in question appear before the Authority to support your application. They .E,hould be in a position to say with truth that they have made attempts to secure the services of other hauliers who already hold suitable licences, but have failed to obtain satisfactioa. It is not sufficient for customers to show that it would merely be convenient for them to have you available. The Licensing Authority will not accept hearsay evidence or supposition. He is interested only in hard. facts. Therefore, an applicant must be fully prepared for a searching examinatim and must have confidence in his case. You must remember that the Licensing Authority is required not to authorize additional tonnage which may result in a wastage of transport. If, after these remarks, you still wish to go on with your application, we suggest the advisability of employing a competent legal representative.—Eo.]
THE TIMING HAS SLIPPED THE Board of Trade seems to have selected an unfor tunate time to publish a "Hints to Business Men" booklet on Finland. Perhaps there might be even greater scope for a booklet entitled "Hints to the Board of Trade," compiled by business men and dealing with
British industry. CYNIC. London, N.14.