New High-capacity Compressor
9th April 1948
Page 37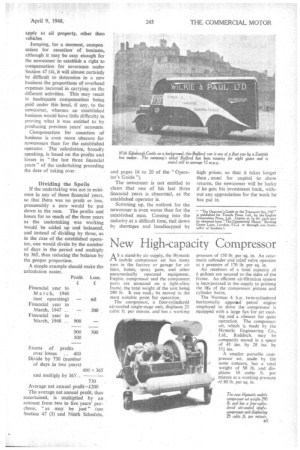 Page 37, 9th April 1948 —
New High-capacity Compressor
Close
AS a stand-by air supply, the Hymatic mobile compressor set has many uses in the factory or garage for air lines, hoists, spray guns, and other pneumatically operated equipment. Engine. compressor and the component parts are mounted on a light-alloy frame, the total weight of the unit being 290 lb. It can easily be moved to the most suitable point for operation.
The compressor, a four-cylinderdd air-cooled single-stage unit, displaces 25 cubic ft. per minute, and has a working
pressure of 150 lb. per sq. in. An automatic unioader and relief valve operates at a pressure of 170 lb. per sq. in.
Air receivers of a total capacity of 6 gallons are secured to the sides of the frame. An efficient air-filtration system is incorporated in the supply to prolong the life of the compressor pistons and cylinder bores.
The Norman 6 h.p. twin-cylindered horizontally opposted petrol engine employed to drive the compressor is equipped with a large fan for air cooling and a silencer for quiet operation. The compressor set, which is made by -the Hymatic Engineering Co., Ltd., Redditch, may be compactly stored in a space of 45 ins. by 28 ins. by 351 ins.
A smaller portable compressor set, made by the same concern, has a total weight of 50 lb. and displaces 10 cubic ft. per minute at a working pressure of 80 lb. per sq. in.